The Secret Life of the American Teenager Review: Passion vs. Comfort
Leigh Raines at .
The Secret Life of the American Teenager is about to sign off for good and I find myself feeling a little emotional about all of the original characters. "Caught in a Trap" revisited a lot of past relationships and different pairings on the show.
Aside from the many PSA moments, we also found resolution on a few issues.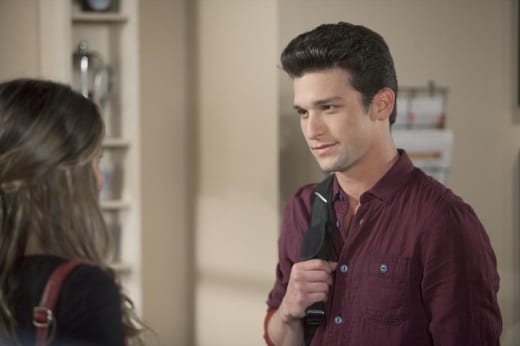 Although Jack has improved greatly since his days of being in denial and completely afraid to leave Grace's house, there were definitely still some unresolved issues deep down. Oh, let's not forget that time he tried to shoot at George in his sleep! He knows that Adrian wasn't totally lying to him, yet he chose to accept Grace's denial. Then he made out with Madison, which, let's face it, his mom totally helped set in motion!
One storyline that was never fully resolved was what happened with that pimp. Then we saw Chloe call him a few week weeks back and last week's Secret Life, "When Bad Things Happen to Bad People," didn't even touch on it. I'm glad to see that Chloe never went back to him and that the phone call was a fake out. I was worried she felt rejected by Ben and would make a bad decision. Kind of like Adrian offering for Ben to sleepover because she was upset with Omar.
Not to sound like Cathy and her long speech to Ethan, but when did women start jumping into bed with other guys to make themselves feel better? However, this is way more typical teenager behavior than getting engaged in high school. Sadly, it's true. Since I've spent so many weeks lamenting over how unrealistic this show is (by weeks, I mean years) let's just discuss the characters we've grown attached to in that time.
It was nice to see Ben and Adrian out to dinner together, even if they spent a lot of time talking about Amy and Ricky. I felt they always had chemistry as friends and it was good to see them both able to be so honest about stuff without all the lectures. Amy attacking Ben in the hallway was pretty amusing. You just knew Alice was going to spill the beans! Amy could totally kick his ass.
The part of this episode that shocked me the most was Ricky's admission to Ethan in the car. For all of The Secret Life of the American Teenager Season 6 we've seen Ricky acting like a saint. He's been the perfect fiance and father. Ricky's also well aware that Amy is not that happy, so this whole time I've just been thinking: what gives? Well, it turns out he wants to let Amy go to New York because he has his own doubts and wants to set her free.
As he said, he doesn't feel passionate, he feels comfortable. Do you think Ricky could find that passion with someone else? Say... Clementine?
You wanna know the truth? When I have sex with Amy I don't really feel anything. You know why Ethan? Because I slept with too many girls. | permalink
That was an interesting and unexpected speech. So what did you think of Ricky's big admission? What did you think about Jack's makeout with Madison? What will Amy tell Ricky now that he's confronted her. Will Ben and Adrian hook up one last time?