Franklin & Bash season 3 returns with lots of changes starting with "Coffee and Cream" and continuing with "Dead and Alive" but thankfully our boys remain the same.
However, life as they know it may never be the same.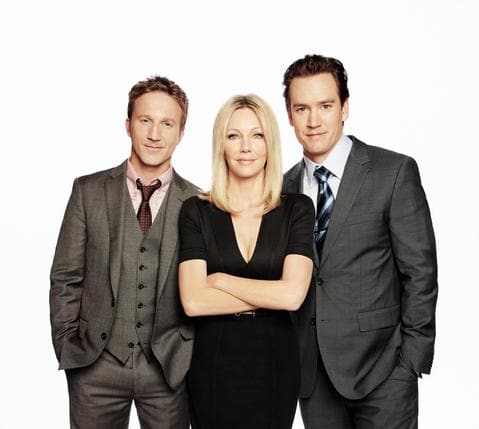 Heather Locklear joins the cast as Rachel King who not only humiliates the boys on national TV, she quickly becomes their new boss. 
Looks like Infeld is having a bit of a crisis after witnessing someone's suicide while on vacation.  He's looking to listen more and work a little less. 
Rachel will definitely be a challenge for the boys.  So far she seems immune to their many charms.  How long will they last if going to work everyday begins to feel like actual work? Are the fighters of the corporate zombie culture losing the battle?  As Rachel tells them in this Franlkin & Bash quote...
 I like zombies. They're predictable. They never get tired and they don't take the associates out for '70s roller disco night on the firm's credit card. | permalink
Other things have changed too. Hannah's moved on, leaving the firm for a more lucrative job elsewhere. I really liked Hannah but there never did seem to be enough story to give her the focus her character deserved. 
Damien's still here…but he'd rather be pursuing a judgeship.  Of course a video of him masturbating during a sleep study may challenge that goal.  Rachel convinces him to leak the video himself and get ahead of it before someone else makes it an issue.  Not bad advice but I don't think he ever expected to become the poster child for the Serial Masturbation Club…and if that's a real thing I really don't want to know. 
Pindar and Carmen are still on the payroll as well.  Pindar's phobias continue…and somehow lead him to burn the house to the ground. 
But leave it to Franklin and Bash to turn that loss into a win.  Stanton sets them up in a new abode, minus the jacuzzi…but their back door leads straight to a gorgeous stretch of beach.
Speaking of gorgeous, Peter's drawn to the only girl out there not in a bikini, although those shorts were plenty short. Charlie's smart and pegs Peter as "big, dumb, and a bit of a bottom feeder."  So much for love at first sight. But it's nice to see Peter have to work for something and Charlie should keep him on his toes. 
The cases of the week were so-so.  I wasn't crazy about the magician and his twin but the war veteran who was declared dead before his time took a turn I didn't see coming. 
It's nice to know that Rachel has a soft spot for veterans.  I look forward to seeing how well she and the boys play together this season.
So what did you think of the return of Franklin & Bash?  Is Heather Locklear a good fit?  Should the boys be worried there's a new king in town? What are you hoping to see in season 3?
C. Orlando is a TV Fanatic Staff Writer. Follow her on Twitter.