The Secret Life of the American Teenager Review: I Choose Me
Leigh Raines at .
With graduation from Grant High School came a lot of decisions. And I can only imagine that longtime fans of The Secret Life of the American Teenager are going to have really strong opinions on "Thank You and Goodbye."
For weeks, months, seasons and years it was always about who Amy would choose.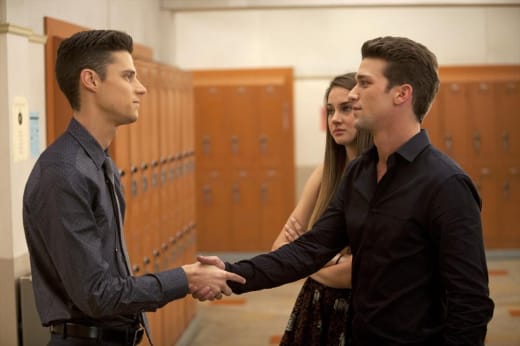 In the end, I guess she chose herself. She didn't stay with Ricky, but she didn't definitely end up with Ben either. She choose to see where the next chapter of her life would take her... without her son. I can also imagine there will be a lot of strong reactions to that part of her decision.
Elsewhere, Grace and Jack finally broke up. Henry and Alice got back together. Omar came back for Adrian. Honestly, there's not much to say about a finale that was 80% filled with flashbacks. The one major scene was the break-up between Amy and Ricky. It showcased how well Shailene Woodley and Daren Kagasoff have it in the future with their careers. They have both grown so much since the premiere in 2008 and have become great actors. Fox should not have passed on Delirium with Kagasoff at the helm. 
That scene was heartbreaking for so many reasons, including the fact that it was finally the honest truth from both of them. They weren't in love and while they loved each other, it wasn't ultimately enough. I only hope that John grows up to have a good life.
After everything we've been through, we both just deserve to be madly in love when we get married. | permalink
I guess Amy did have a point with what she said and hopefully all three of them will end up happy. That scene was probably the only positive thing I have to say about this finale.
The Secret Life of the American Teenager was the first show I have ever reviewed for TV Fanatic and seeing it through to the end was important to me, despite the many unrealistic, cheesy and sometimes downright awful storylines. A finale that basically phoned it in was a disservice to all of the people who did stick with the show through the years.
So that's it on my end. What about all of you viewers? Were you happy with the finale? Were you satisfied with the way it ended? I'm interested in hearing all of your thoughts so hit the comments!