This season of Franklin & Bash has been one of the best of the series, which is why I was rather disappointed in ""Control" - except for one interesting twist that I didn't see coming.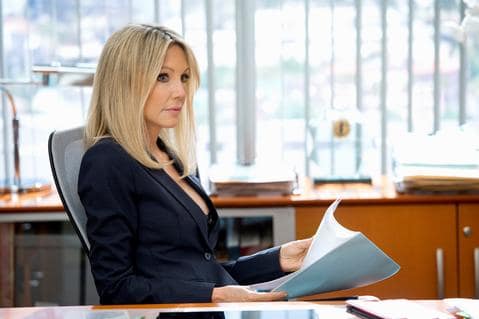 The comedian turned professional heckler wasn't necessarily a bad story, but since I wasn't a big fan of Zach it was hard to care. Yes, the heckler was being paid to be an obnoxious jerk, but this is baseball. As Peter mentioned in this Franklin & Bash quote…
Hecklers in the majors are a lot worse. Wait till he goes to Philly. | permalink
Even the judge thought that suing a heckler was ridiculous.
Tell your client to get his panties out of a wad and play a little baseball. | permalink
I know that we all have our breaking point, but Zach's job was to tune it out and play the game. When he went after the guy with a baseball bat, I began to wonder how he'd ever deal with the pressure of playing in the major leagues.
My second disappointment of the night was Peter and Charlie. I've enjoyed the slow build of these two as a couple and the job offer in San Francisco seemed like a good obstacle for them to work through but they never really did.
Although I disagreed with Charlie breaking up with Peter over the phone, what really bothered me was their scene in court where he sued her for pruning his tree. I know his whole speech about the sweet fruit she was leaving behind was supposed to be romantic and sweet but it came across as nothing more than lame.
Despite their kissing and making goo goo eyes at one another, I'm not sure what was really accomplished. She finally told Peter she felt like he was too clingy and she had other things in her life but they never talked about the job. It's supposedly a huge opportunity she's wanted for years. Does this mean she's not taking it? Will they become a long distance couple?  
I kept waiting for a resolution that never came.
Even Rachel taking on her brother's case didn't do much for me.  We learned that Rachel grew up in Alabama and once ruined a girl's hair in a pageant to win a scholarship and leave behind her small town roots. Also her brother's a bit of a conman and a cheat himself. But in the end I can't say I cared much one way or the other.
The best part of the night was Damien finally telling the judge off on the golf course. I love it when Damien finds the balls to stand up for himself, so to speak. Unfortunately his tirade about burying a seven iron in the man's skull may end with him being charged with murder.  
I'm definitely interested in finding out how the old guy ended up dead on the ground with his head bashed in. That's an explanation I'd really like to hear.
But overall this Franklin & Bash wasn't as funny or as full of heart as I've come to expect from one of the summer's most unique shows.
C. Orlando is a TV Fanatic Staff Writer. Follow her on Twitter.