"Snap Out of It" was full of shocks, as Dani, Nico, and TK all headed down roads I never expected. 
Even the patient of the week took a surprisingly serious turn.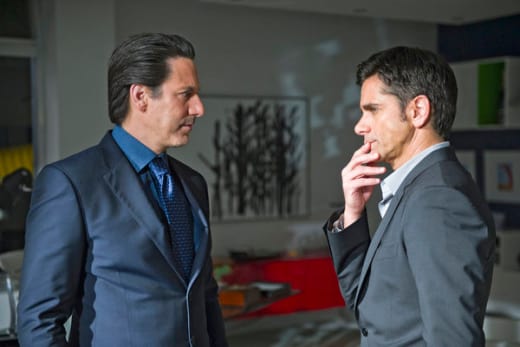 Ioan Grufford guest starred as Nolan Powers. I loved Grufford in Ringer and his guest appearance on Castle Season 5 - and he didn't disappoint here. Nolan Powers was a complicated man who didn't believe in therapy and needed it more than most. 
I was shocked when Nolan's fiance came forward with his e-mails to a 12-year old girl. Necessary Roughness normally doesn't visit the dark side and that type of child abuse seemed like quite a departure for the show. As it turned out, the abuse happened long ago.
When Nolan passed the polygraph and Dani and Nico found the kids drawings strewn around his room, I had a pretty good idea where this story was heading.
Nolan had multiple personality disorder after being abused as a child. His alternate personality was a young boy named Scotty who literally tried to burn the house down to get help. Unfortunately, Nolan wasn't listening.
I found the story line particularly disturbing since Nolan started off by telling Dani he wanted to kill himself. Without help, how long will it be before either Nolan or Scotty decide they can't live with the torment and decide to end it all?  
I really don't think Connor understood the possible consequences that could occur if his good friend continued to avoid therapy.  I hope the show revisits Nolan Powers in the future as they actually have me concerned over a fictional character's well being.
There were more surprises in this episode. That Nico was working for the Feds wasn't one of them. I assumed they were holding charges over his head to get his help with V3. What I didn't expect was Nico to pull strings to get to see someone being held by Immigration. Could this be related to the Pittmans or is it something else all together?
TK and his new lady love Sheera made quite the couple. They could be quite the powerhouse with his Brickhouse Lingerie, if only they can figure out how to communicate and move forward together. Right now it appears that Sheera has taken over and her intentions aren't entirely clear.
The biggest shocker of the night was Dani and Sam. Yes, he was handsome and charming but so are all of the other men in Dani's life. Was the appeal of Sam that she had no past with him and that he'd be off to LA the next day? I really didn't expect Dr. Santino to go the route of a one night stand. 
And being a proud member of Team Nico, I was more than a little disappointed.
How about you? Did Dani deserve to have her fun? Is sleeping with Sam just a fling or is he looking for more? And how will Connor and Nico react if they find out? We'll have to wait for next week's Necessary Roughness to find out.
C. Orlando is a TV Fanatic Staff Writer. Follow her on Twitter.