"V3 for Vendetta" took a very dark turn - and I don't think we're going to see the light any time soon.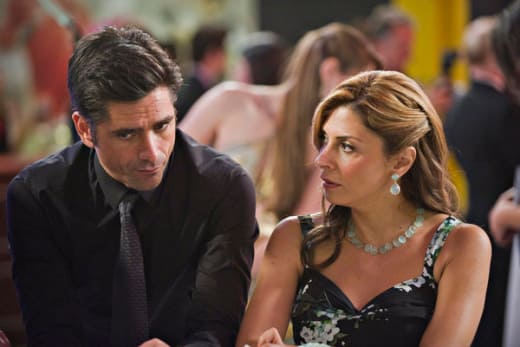 It started off light enough. Dani was basking in her two-night stand with Sam. She even quipped that she finally felt like things were falling into place. Perhaps she spoke too soon.
Nico certainly didn't seem to feel that way. Between the Feds blindsiding him with a raid on V3 and Dani canoodling with Sam, it looked as though Nico had had enough. He even put the FBI on notice: Either wrap up this investigation in four weeks or he'll walk out the door, never to be seen again.
And we know if anyone can pull a disappearing act, it's Nico.
Which was the bigger issue for Nico: his unhappiness with his forced undercover assignment or having to watch Dani with another man... again? I'm fairly sure it was Dani and Sam that pushed him over the edge. 
But Dani's world was about to get turned upside down. When she told Carl that there were always options, she didn't mean jumping off a building. Suicide is a permanent solution to a temporary problem. Even leaving the country would have been a better choice.
Did anyone else notice that when Dani really needed help with Carl, she went to Nico? I wondered if Dani realized how much she's relied on him over the last few years.
On a happier note, TK and Sheera made up, launched their lingerie line and stole a Maserati. I suppose if you're going to steal a car, it might as well be a Maserati.
I couldn't understand why TK didn't hire a helicopter to get him out to Long Island. It's not as though he doesn't have the money and it would have made everyone's lives much easier, especially the owner of that Maserati.  
TK and Sheera were great together. They walked the line between a hot mess and a match made in heaven. We'll have to wait and see on which side they fall.
Connor had his hands full back at V3 trying to figure out who's working with the FBI. Abigail Bruce was back again and Connor was absolutely right. She didn't answer his question. How many moles could the Feds have on V3?
And Troy and Paloma were just... eww! I thought more of Paloma up until this point. Knowing she's sleeping with Troy to get ahead and selling out Dani to do it just made me cringe.
With Sam finally gone, should Dani take the time to peel more of the Nico onion or should she step back and take some time for herself? And what should she do with that memory stick? We'll have to wait until next week's Necessary Roughness to find out.
C. Orlando is a TV Fanatic Staff Writer. Follow her on Twitter.