The Glades Review: Honoring The Fallen
Jim Garner at .
Jim's style of "ready, fire, aim" for interviewing and arresting his suspects fit right into this week's case on The Glades, as "Civil War" brought him face-to-face with a Civil War enthusiast.
The investigation was pretty much the norm we've been getting the last few weeks: a victim, three suspects, two red-herring arrest, one final confession.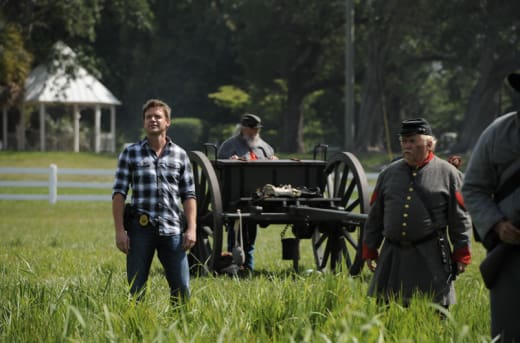 In fact, the case was neither awful nor great; it was completely average, if not slightly predictable. But that wasn't a bad thing because it let the other storyline have a little more room on stage; that being the death of Doctor Hardy.
In my review last week, I said that I had hoped to see more of Ed Asner as Dr. Hardy. I guess I should have been more specific in my request, as I did see "more of him," albeit laying on the floor dead.  
While his death didn't completely surprise me, I was not expecting him to be the owner of Well Core, the company that owns the hospital that Callie works at. Or that he would leave her money in his will to finish med school. 
This is going to make things interesting if Callie has the money to go to school without needing to work. Can she do that in Palm Glades? 
However, let's not forget the other shoe that dropped in this episode: Ray left protective custody. My first thought was to wonder were Jeff was... then I wondered how this was going to end.  
I can't see how this is going to go well for Jim, Callie, or Ray. At best, Callie is mad that Jim didn't tell her about Ray calling Jeff and Ray has to get relocated with no contact. At worst, Ray ends up dead and Callie and Jeff end up missing, injured or also being a goner. 
Let's hope Ray is smart enough not to come to Florida and endanger his ex-wife and son. Okay, that's a lot to hope for, but we can try right?
Overall, it was a good episode. I'm giving it 4.3 musket ball rifles in honor of the Battle of Olustee and for the soldiers who died there. Here's hoping that Jim and Callie can finally tie the knot before the end of the season.
Jim G. is a TV Fanatic Staff Writer. Follow him on Twitter.