Covert Affairs Summer Finale Review: Goodbye, Annie Walker

Carla Day at .
And it all comes back to where it started.
In the Covert Affairs season 4 premiere, the story began with Annie heading up the elevator to face off against Calder and losing their gun fight.
And in "Levitate Me," the truth behind that confrontation was revealed. Annie's not only going off the grid, she's following in Helen's footsteps by going completely dark to find out the truth behind Henry Wilcox's plans.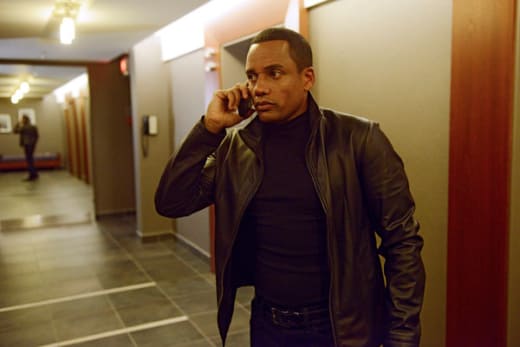 The events of the summer finale weren't surprising to me necause I've long suspected that Calder was on the right side and that he was helping Annie fake her death. Even though I saw it coming, the way it all played out was riveting to watch and emotionally powerful.
When Annie wrote the postcard to Danielle, the cost to both Annie and those who love her was palpable. It was heartbreaking to think about how Danielle will take Annie's death. Despite the danger that she was in, Annie at least was able to take a moment to say goodbye to those she loves. And Annie's call to Auggie served multiple purposes. She was able to say goodbye and let him know she was going through with her plan, while selling the authenticity of her death since she knew his phone was tapped.
She may not have physically died in that elevator, but the life that she previously had was over. To everyone who loves her and worked with her, she's dead. Though, I wouldn't count out Annie finding a way to communicate with Auggie. Helen did have Arthur to back her up even though she was supposedly dead too. And, both Calder and Eyal know that Annie's alive. If she's in a dire situation, she does have people that she can count on. 
At this point, Henry Wilcox seems to be winning the war, but it's difficult to know since his true motives and goal is still unknown. I'm disappointed that Teo's actually dead, since I hoped that someone faked his death even if it was for nefarious reasons. I guess one faked death a season is enough though, right? Wilcox has succeeded in taking Arthur's son just as Jai was taken from him.
Though, it still makes no sense why Henry blames the Campbells for his son's death. Perhaps at some point, he will reveal his logic behind that. Henry's gotten his revenge. Arthur had already left the CIA and now because of Henry's actions, he's being held for questioning and looking at a possible prison sentence. And Joan's lost her position at the CIA as well.
Now, Annie's set out to find out the truth behind Henry's actions and what else he is planning. He's already admitted that Teo being involved with the ALC and being Arthur's son was just a convenience. He was working with the ALC well before he knew of their connection.
She'll have to find out what he doing in Germany. Since he didn't actually have dinner with his ex-wife, it's unlikely it was strictly for personal reasons. Henry used one of the missiles to take down the helicopter and the rest were recovered, so that's a dead end now. With Henry back at the CIA, it's going to be even more dangerous for everyone involved.
At least, Calder and Auggie are working on the same side now. They can investigate the situation from within the CIA, while Annie works other angles secretly. That combination may just be enough to outmaneuver the formidable Henry Wilcox.
When Covert Affairs season 4 picks back up in October, it's going to be a much darker and dangerous show. Annie showed off her spy craft in Germany, but she's going to have to be even more careful going forward. One wrong step and she'll be captured. 
Are you glad that Calder did end up being an honorable agent? Will Wilcox question Annie's death or believe without a doubt that she's dead? Is there any hope for Arthur and Joan to resume their careers at the CIA?
Carla Day is a staff writer for TV Fanatic. Follow her on Twitter and on Google+.