Jane said to tell no one, and yet inevitably everyone found out about the list on The Mentalist season 6 premiere.
"The Desert Rose" opened right where we left off, with Red John taunting Jane with his final seven predictions.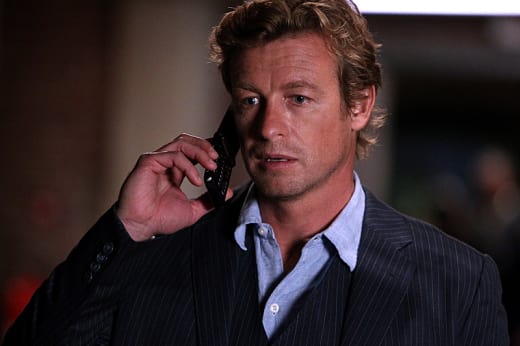 Realizing that the list Lorelei was reading on that recording had to be made two months earlier, Lisbon looked at Jane in shock and horror and asked how it's possible…
Jane: It's a trick.
Lisbon: A trick how?
Jane: I don't know. | permalink
Jane's lack of direction seemed to unsettle her even more than that recording. Jane swears he's not freaked out. Maybe he should be.
I kept wondering why Jane would ask to see Cody's guns at the crime scene. It felt odd, being that Jane's not a fan of weapons. But I suppose the entire point was to have the Sacramento PD so ticked off at Lisbon's CBI team that a call for back up later wouldn't be their top priority. 
But that wasn't the only consequence that carried the story along. Just having a list of suspects made Jane and Lisbon look at everyone differently. From Bertram's off the cuff remark about hearing Jane was getting close to Red John, to the stare down between Jane and Partridge, every interaction suddenly felt like the serial killer was somehow toying with them. 
And maybe he was.
Fear and paranoia swirled around Jane and Lisbon. Jane worried that sharing the list with Teresa put her in danger. She grew concerned that the list was making him more paranoid. 
But their shared distress manifested itself in different ways. Jane wanted to go it alone while Lisbon needed to have her team backing them up. Finally their desire for different paths came to a head.
I was surprised when Lisbon called Grace and had her GPS track each of the seven suspects cell phones. Jane was right. It wouldn't take much for Red John to figure that out and use it against them. Of course Lisbon was right too. At least they'd have some information and they could factor Red John's involvement into it.
I had little doubt that Grace would tell Wayne once he began questioning her and no doubt at all that Cho could crack Rigsby. 
I loved Rigsby reasoning when Jane questioned him in this The Mentalist quote…
Jane: You told Cho.
Rigsby: He can't be the only member of the team who doesn't know. Come on, that's not fair. | permalink
How could you not smile at that?
When it all finally came out, Jane was accusing Lisbon of being childish and out of her depth while she shot back that he was arrogant, paranoid and lacked direction.  
I think it was the "out of your depth" that really got her riled. It made it sound as though after all of these years and all of the cases they'd worked together, that when it came to Red John, Jane didn't respect her as an investigator. Ouch.
But I honestly thought his reaction came from a place of fear. As he said earlier, he wished he hadn't told her because anyone who knows is in danger. I think the worry that he'd put Teresa in Red John's cross hairs was eating away at him.  
The final scenes of Teresa going out on the distress call weren't a shock. It was clear how this was going to play out long before it happened. Yet somehow when Partridge muttered "Tiger, tiger" in the dark and Teresa was violently grabbed from behind, it still took my breath away. 
Watching Jane's relief cross his face at finally getting a call back from Teresa and having it turn to horror was stomach churning. For six seasons this scenario has been his worst nightmare and now it's coming to life in front of him.
Can Patrick save Teresa? What's Red John's plan? I have no idea what will happen next but I sincerely can't wait for the next episode of The Mentalist to find out. 
C. Orlando is a TV Fanatic Staff Writer. Follow her on Twitter.