Nikita Review: Truth Slowly Uncovered

Carla Day at . Updated at .
Wow!
I opened my last Nikita review that same way and the feeling remains for the same for the season premiere. This show continued to knock it out of the park in both action and heart. I'll be sad to say goodbye to these characters at the end of the year.
With a shortened Nikita season 4, the premiere didn't waste any time at all. After 100 days of being on the run, Nikita finally had some evidence that could help prove what really happened on that horrible day in the Oval Office. With evidence in hand, she set out to clear her name.
The Nikita Season 4 Episode 1 opening sequence was horrifying to watch, yet Nikita's nightmare was a clear way to show why she left her family behind and went out on her own. She was the most wanted person in the world and she couldn't allow them to put their lives on the line for her. She loved them too much to stay. 
Despite her best intentions, Nikita's decision to leave was selfish. Michael and the others were never going to stop looking for her. And, that left them right in the line of fire. During her months away, they continued to investigate The Shop, what happened in the Oval Office, while trying to find her.
Michael's search meant he was hot on her trail as soon as she surfaced. While the FBI was still cataloging evidence, Michael's understanding of Nikita allowed him to look at the evidence and with a little cyber-research figure out her plan. And, without hesitation, he went after her.
While Nikita was in the dark, she was able to avoid detection from not only Michael, the FBI, but also her greatest foe ... Amanda. Nikita's plan to meet with journalist, Dale Gordon, would have worked if it wasn't for Amanda. She was feeding Dale information about Nikita and the President's assassination.
Dale's role as the biggest critic of the investigation and questioner of the events in the Oval Office made him the perfect journalist for Nikita to approach, only that ended up being a mistake. She thought his source was an FBI insider, but since it was Amanda, Nikita walked right into a trap.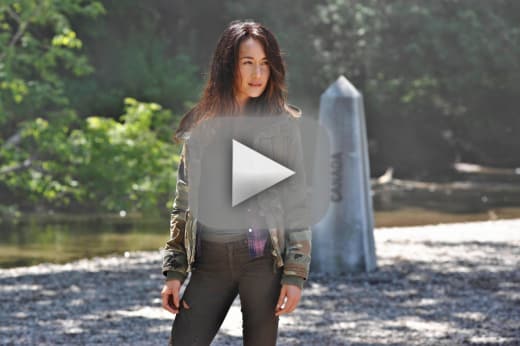 The FBI was clueless about Nikita's whereabouts until Amanda tipped them off. I just assumed that was because she wanted Nikita captured, but there was something much larger at play. The lead investigator on the case, Matthew, was working for Amanda.  What?!? I didn't see that coming. 
With Nikita trapped in the building surrounded by the FBI, it was Michael and Birkhoff that helped her get out. I loved that they both gave her crap about leaving in a loving and supportive way. As angry as they were at her for abandoning them, when it came to this life and death situation, they let it go with the exception of a few snide remarks.
It was business as usual. Nikita took control of the situation and told them what was going down. When the control shifted back to the guys, it was awesome! Well, I mean, I felt bad for Nikita as she sat helpless under the fan, but in that moment it was nice to see her have to rely on someone else to help her.
The moment that Nikita and Michael were reunited was touching. Short, but their feelings for each other were undeniable. Michael blackmailed an FBI agent for her. When it was revealed that Matthew was working for Amanda, that added a whole new dimension to that arrangement.
With the evidence that Nikita had either blown to smithereens with Dale Gordon or in the hands of Amanda's people, what will Nikita do next? She's on her own and seriously injured. Will she realize she needs her family's support? Or, will she try to handle this all on her own?
While I hope she contacts Michael, the events at the news station will likely push her to try to move forward on her own. It's too bad that she doesn't realize that they have some of the answers she needs about what's going on. 
The Nikita season 4 premiere has set a high bar for the remaining five episodes in the series. The truth behind what happened is slowly being uncovered, but not without danger and a loss of life.
Odds and Ends
At first I wasn't sure how what Alex and Sonya was doing would help Nikita, but they were trying to get the goods on the Shop and their human trafficking business.
Owen! Or, I guess I should say: Sam! Is he the "last one" that Amanda mentioned? 
I hope that Alex is able to finally get through to him. They have a lot in common and if anyone can draw Owen back out again even partially, it's Alex.
What's in the blood? And, how are the people being controlled? Is it something that could be spread? I hope we don't have to worry about whether everyone could be "controlled."
Where has the real President been all this time, since it was an imposter that committed suicide? If they figure that out, Nikita would be in the clear.
What is Amanda's endgame? The connection with the Shop and the experiments aren't likely about money. Amanda always has a grand scheme going. I hope it's revealed sooner rather than later.
What did you think about the premiere? Should Nikita team up with her allies again? Or go it alone? What do you think Amanda is up to?
Carla Day is a staff writer for TV Fanatic. Follow her on Twitter and on Google+.