The Mindy Project Review: Mr. and Mrs. Wedding

Chris O'Hara at . Updated at .
When Mindy needed a date to her ex-boyfriend Josh's wedding, she naturally turned to Danny.
Danny, though, was eagerly awaiting the arrival of his younger brother. So, on The Mindy Project Season 2 Episode 10 we were introduced to Mr. Wedding, as Peter stepped up to be Mindy's date.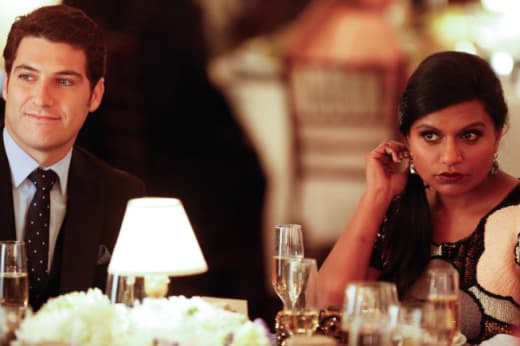 For all his machismo, Danny showed how in his book, blood is thicker than anything.  Mindy and the others were worried how the conservative catholic would react to the news of Richie's sexuality.
To their surprise Danny was well aware Richie was gay.
Morgan: You know Richie's gay?
Danny: No Morgan a straight guy won Mr. Gay Fort Lauderdale. Yes I know he's gay.
Danny only got upset when Richie presented him with a gift from their father. Danny's personality makes more sense now after learning about how his dad walked out on his family. I suspect we will hear more about the doctor's family life in the future and, of course, meet the man who he hates so much at some point.
Any thoughts on who should play him?
While I'm still not sure what exactly makes Peter tick, I was as shocked as Mindy was to see how slick he looked with a shave and suit. I liked how he didn't break into some choreographed routine on the dance floor, but instead just went along with Mindy and helped get the party started. 
Peter, however, took the party from the dance floor to his pants with Josh's bride. Save for that one minor misstep, Peter was a pretty solid date for Mindy. I wonder if fans holding out for a Mindy and Danny romance might now be pulling for Mindy to give Peter a shot.
They were great on stage together, taking blame for ruining the wedding and Peter did open up about not having sex for over a year. If nothing else, hopefully it helped bring the two closer and will lead to more scenes featuring the duo.
My only real issue with the episode were the scenes after the wedding. First, should Peter have even been driving? And that game of limbo set the bar pretty low in terms of concluding scenes, but overall I thought it was solid episode.
What say you Mindy Minions? Visit our section of The Mindy Project quotes now.