NCIS Round Table: "Devil's Triad"
Steve Marsi at . Updated at .
Our review of "Devil's Triad" broke down last week's NCIS Season 11 Episode 10 in detail.
Now, TV Fanatic staff members Steve Marsi, Douglas Wolfe and Christine Orlando have assembled for a Round Table Q&A discussion of various events and topics from the installment.
Join in as we analyze the return of Fornell and Diane, plus more from TV's #1 show ...
----------------------------------
1. Describe the episode in two words (or three, or four).
Doug: The Dichotomy of Diane.
Christine: Welcome to the Family.
Steve: "Devil's Triad." For once, I can't top the actual title!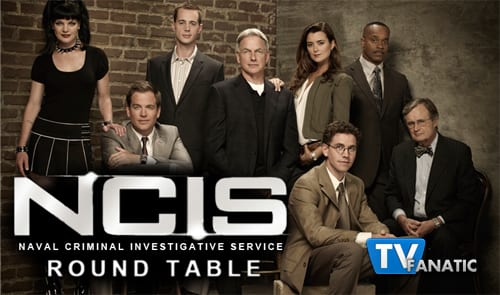 2. Favorite quote or scene from "Devil's Triad"?
Doug: I literally laughed out loud when Fornell deadpanned "he's got a bigger chest than Diane."
Christine: I loved it when Bishop warned Tony that Gibbs was coming up behind him. It showed what a new era it is at NCIS like nothing else could.
Steve: Fornell's reaction staring at the guys while still in his bathrobe was pretty priceless. Also, any reference to being shot in the "caboose" is pure gold.
3. What, if anything, didn't work for you?
Doug: I really disliked Abby blurting out the details of Diane's sex tweets, and then suddenly realizing Diane, Fornell and Gibbs were all standing right there. It was too obvious, and it was consequently distracting. No way is she that stupid.
Christine: I have to agree with Doug on this one. Not only were Fornell and Diane about 15 feet away but so was their daughter. The scene made Abby look like an airhead which was annoying because she isn't.
Steve: The aforementioned Abby comment, and the ways in which Diane keeps being brought back seem a little far-fetched ... though they do result in some funny episodes so how much can you really complain?
4. Did give Gibbs give Tobias and Diane his blessing? Should he?
Doug: I picture him saying "FINE. You've got my blessing, but only if you'll leave my house right now."
Christine: Yes. I think he did. As weird as it may be, the three of them are all friends... sort of. And I think in the end Gibbs just wants to see his friends happy... and out of his house.
Steve: Probably. Diane and Fornell have a beautiful daughter, and while they are also divorced, one gets the impression she and Gibbs left things on terms nowhere near as positive. So as weird as it is, if they're happy, how can he not support it (begrudgingly)?
5. If CBS made a Gibbs-Fornell-Diane spinoff, what would you title it?
Doug: "Skivvies" Tobias and the Sex Life of Federal Agents. It also works as the name for a heavy metal rock group.
Christine: I'm not the biggest fan of Diane but I'd love a Gibbs-Fornell spinoff. But if we have to go with all three then maybe NCIS: Days of Our Wives.
Steve: NCIS: Three's Company?
6. Who was the team MVP for the week's case?
Doug: I think that honor should go to Gibbs. He not only repressed his repulsion (time after time) when Fornell and Diane sought his help for their relationship, but he managed to lead the team in solving the case of the week. Not only that but he showed what true leadership is, by considering an alternative method for getting to the root of the case, and allowing his teammate's proposal to go forward, instead of his own. Plus, he provided some much-needed stability for Emily at a time when she was losing her mind over her parents.
Christine: I first I wanted to say Bishop for finding Emily but really the MVP was Gibbs. The man was there for everyone, even when it got weird. Fornell, Diane, their daughter plus he allowed new teammate Bishop to find her footing in her own way. Plus, Gibbs is played by Mark Harmon whom I can't get enough of.
Steve: Gibbs with an assist to Bishop and Emily.
7. Do you like Bishop so far, and how she's fitting in?
Doug: I like her very much. I enjoy her personality: her quirkiness, and her tendency toward a quick laugh. Some have noted that her regurgitating stuff from an autopsy handbook - plus knowing the number of pages in it - seemed unrealistic. My thought is that she's either autistic or has eidetic memory - or both. We need an explanation about this, and I'm sure the writers will provide one eventually. I especially enjoyed this episode, and her non-confrontational manner of talking with Gibbs about the plan for tracking Eddie. Her abrupt reaction was completely innocent, and Gibbs saw that. This scene highlighted two things: one, that her analytical ability is something she takes for granted, and two that Gibbs intuitively seems to understand her method and way of thinking. He appreciates it, and will make good use of it - which to my mind is the mark of a true leader.
Christine: Yes, I really do. She's completely different. She wants to fit in but on her own terms and I like how easily she's bonding with the boys. I look forward to seeing more of her.
Steve: I understand some people are upset that she "replaced" Ziva, but it wasn't like the show went to fix what isn't broken. Cote de Pablo left and Emily Wickersham was cast as a character who has breathed fresh life into the team so far. She's nothing like them and at least so far, it's hard for me not to like her and consider the casting a success, especially under the circumstances.
Steve Marsi is the Managing Editor of TV Fanatic. Follow him on Google+ or email him here.