The Big Bang Theory Review: What If?

Carla Day at . Updated at .
It's a Christmas without Sheldon! No rules!
That means Star Trek and Star Wars ornaments can be on the same branch. And ornaments can be haphazardly put on the tree. No ruler necessary. It's party time for his friends. A free for all.
The Big Bang Theory Season 7 Episode 11 shook things up and it worked. Instead of seeing the confident and brilliant Sheldon, he was thrown into a situation that he wasn't prepared for and challenged him. He had to help his sister through labor and it was hilarious.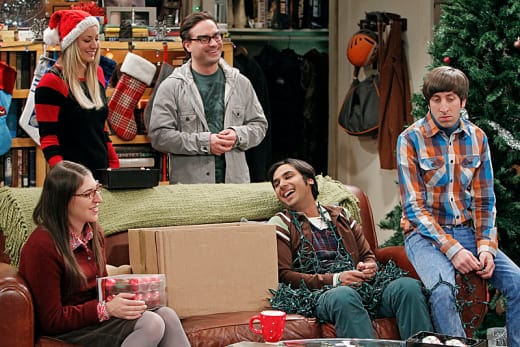 I love episodes that make me laugh out loud, but I also enjoy ones that just put a smile on my face. "The Cooper Extraction" had both. When the half hour was over, I was grinning.. It was downright fun. Both Sheldon's updates from Texas and his friend's alternative realities worked well.
With all the hassle that Sheldon creates in their lives, his friends came to realize that Sheldon has brought them all together. Without him, they wouldn't be the big, happy, loving group that they are. While the scenarios they came up with were definitely extreme, it was a fun game for them to play.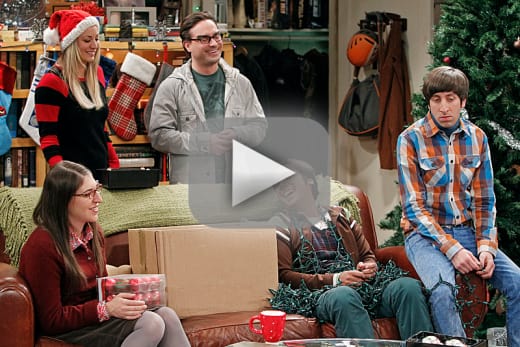 They all know each other so well that they could exaggerate a shortcoming and turn it into a hilarious story. My favorite was when Penny hit on Sheldon in the laundry room. Her over-the-top flirting, the hair flip, and then taking her shirts off was hysterical. And somehow both Jim Parsons and Kaley Cuoco were able to keep straight faces throughout the scene. 
Sheldon's experience in Texas was traumatic for him, but provided laughs for his friends and viewers. He was right though when he told himself, "If you can make it through the Green Lantern movie you can make it through this." He made it to the end!
Here are a few of the funny lines from Sheldon's experience during his sister's child birth.
And turn the bedroom floor into a amniotic slip and slide


Sheldon
Sheldon: I've seen things. Lady things.
Amy: Listen to me. That is not the way they usually look.
Sheldon: It doesn't matter. This is no way to make new humans. People coming out of people. Some kind of dirty magic show.
I have two Ph. D's but somehow I'm the janitor of my sister's birth canal.

Sheldon
Which of the alternative reality stories was your favorite?
Did the episode leave you with a smile on your face too? Check out the funniest lines in our The Big Bang Theory quotes section! 
Carla Day is a staff writer for TV Fanatic. Follow her on Twitter and on Google+.