The Big Bang Theory Review: Umm....

Carla Day at . Updated at .
Penny went from waitress to NCIS this week.
After a decade of struggling to make it as an actress in Los Angeles, Penny finally got her big break with a small role on NCIS. She was understandably excited and gathered all her friends to watch her make it. Only instead of it being the best day of her career, it was perhaps the worst. Her part was cut.
The Big Bang Theory Season 7 Episode 12 was a pivotal episode for Penny and Leonard's relationship. In her moment of despair, Leonard wasn't able to comfort her and only made the situation worse.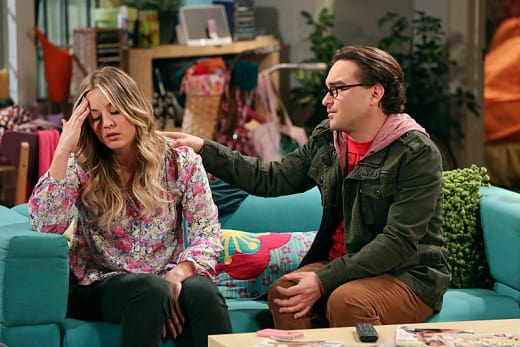 I felt for the guy. Leonard really tried to help Penny, but he was in a no-win situation. By downplaying the role, he hurt her. And then by highlighting the slim chance of success for anyone, he made it even worse. Her dream of making it was crushed. Her pain was real and understandable.
Leonard went and make it even worse by suggesting that Penny submit a video for an open video contest for a role in the new Star Wars. Wolowitz did it, so why not a real actress. Oops! That was embarrassing. His analogy of Luke Skywalker and the Death Star was fitting, but definitely not the best time for it.
The Big Bang Theory is a comedy, but I enjoy when the show focuses on real character growth rather than on the laughs. Penny and Leonard have been together for a while now, but haven't had any real struggles lately. Penny's employment and career path were ripe for a change.
When Leonard told Penny that she would have to propose to him this was not how he imagined it going down. A drunk, depressed, desperate Penny getting down on her knee to ask him to marry her. She didn't ask him because she loved him, but because he was the only good thing in his life.
Was "Um" the best response? What else was Leonard supposed to say?
Leonard and Penny should be together and eventually should get married, but this was not the way to get engaged. I hope when Penny sobers up that she realizes how awkward the situation was for Leonard and cuts him a break. They love each other and are good together.
While Leonard and Penny had a serious issue to work through, Sheldon was analyzing the best way to be funny. And Raj tried to talk to woman with his sidekick, Stuart. Sigh. Neither of those were funny or interesting.
I wish the writers would stop rehashing the same old story for Raj. He should start dating. That would be funny!
The Funniest Moment Award goes to Melissa Rauch for Bernadette's fake laugh. Yes, it was a cheap imitation of Meg Ryan's fake orgasm scene in When Harry Met Sally, but it was hilarious! Loved it. It was an addictive laugh too. I couldn't help join in her laughing. And when she abruptly stopped ... it was almost too much. 
Howard: Fake a laugh? Do you ever do that with me?
Bernadette: No, of course not.
Howard: Well, I'd be able to tell anyway.
Bernadette: I don't think you would.
Howard: Please, I've made plenty of girls laugh, sometimes just by asking them out.
Bernadette: [Laughs]
Howard: Yeah, well, I fake my orgasms.
The lines don't do justice to the moment, but I had to include it. That is a scene to watch over and over again. 
The other top notch moment was when Sheldon finally figured out something that was funny. He dropped his pants! Sheldon standing there in his whitey tighties was enough to make anyone crack a smile at least. It seems physical comedy may be Sheldon's best bet at being funny over any verbal jokes.
Overall, "The Hesitation Ramification" had a more serious tone than most The Big Bang Theory episodes. Those moments worked better than most of the ones that tried to be funny. I hope the series takes Penny and Leonard's situation and moves their relationship forward. They are ready for it.
What made you laugh out loud? Do you want Penny and Leonard to move forward? Or should they break up?
Check out the funniest lines in our The Big Bang Theory quotes section.
Carla Day is a staff writer for TV Fanatic. Follow her on Twitter and on Google+.