Criminal Minds 200th Episode Preview: Paget Brewster, Erica Messer Tease Return of Prentiss
Jim Halterman at .
200 episodes and counting.
An impressive milestone indeed and, in keeping with its usual way of surprising us, Criminal Minds Season 9 Episode 14 goes all ou for this occasion by filling in some gaps in the time JJ was away from the team, as well as beautifully bringing back fan favorite Paget Brewster as Emily Prentiss.
How is Prentiss brought back when she's now based in London? What shocking story points are uncovered in the flashbacks involving JJ? And will we see Prentiss again moving forward?
I spent some time last week chatting with Brewster and Executive Producer Erica Messer to get the scoop on what we can expect in this episode that, I can say having gotten a sneak peek, does not disappoint whatsoever.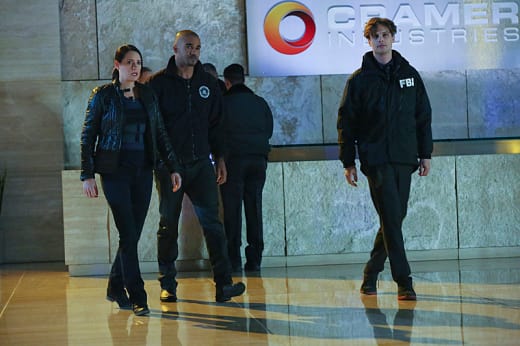 TV Fanatic: Erica, was it daunting at all to do this episode? How did you and your writers approach it?
Erica Messer: We definitely approached it as a milestone and how can you not with 200 other under our belt? But we wanted to acknowledge one of the biggest elephants in the room, which is that JJ left the show, she came back to the show, and not only did she come back, she came back stronger and changed, and we wanted to show how that happened, why that happened, personally and professionally, what that journey was for her in the missing year of being on our team. And in doing that, we were able to lay in a lot of fun things, like when we introduced Esai Morales at the beginning of this season, we knew we were going to introduce him present day but with a mystery of why does he and how does he, know JJ?
TVF: Knowing you've been concentrating on comedy, Paget, was it a big switch to flip to get back into the mode of Prentiss or was it easy?
Paget Brewster: Honestly, just the table read for Criminal Minds, it felt like I never left…it felt exactly the same… when Erica called and asked me if I would come back and be a part of the 200th episode, I said 'whatever you want. Yeah, I would love to. Thank you for including me.'
I didn't think that Prentiss would pay such a big part in it, but I was thrilled and everyone else in the cast was happy, so I didn't feel like I was stepping on anyone's toes, and it was a really fun thing to do. But I thought I might get like two or three scenes and so it ended up being a lot and it was great.
TVF: Can you talk about what brings Prentiss back into the fold?
PB: I think what they did with the 200th episode, and Erica told me they were doing this was to go back in time and show what happened to JJ in the time that she was gone from the BAU and in a way Prentiss going to help her was a mirror of when JJ helped Prentiss get out of the country and go to Paris. So it was a nice way to look at these two professional women who are friends and love each other, and have each other's back, and take care of each other's secrets. That was an interesting way to modify the past and explain how her relationship with Cruz (Morales) developed and where the back story came from. I thought it was really well done and I was just really honored to be such a big part of that.
TVF: Erica, tell me about bringing Paget back and why that was important.
EM: We were all hoping with that milestone episode coming up, wouldn't it be great if Paget could come back? And knowing that we were going to do flashbacks, I also said it would be great to bring Jayne Atkinson back except the only way we can bring her back is to tell stories of past…and, creatively, it allowed us to not be stuck with just flashback structure, that's the only way we get to see Prentiss but really needed her to be present in the stakes that were current. So we love that she said yes, love that she was here…and, also, by the end of the episode, the camaraderie with the whole team.
TVF: How was it getting back into the action with some of the scenes you shot?
PB: No one can run as well as AJ Cook. That woman runs like a beautiful, beautiful racehorse, so I was just kind of holding my own, running behind her…[but] I hadn't done stunts like that since I left the show, so, that was something a little jarring.
TVF: We get to see Prentiss with the whole team at the end of the episode. How was that to shoot with everybody in the same room for the first time in awhile?
PB: That was really great, and one of my favorite parts of the whole episode is the moment between Prentiss and Blake (Jeanne Tripplehorn), because I think it's really female positive and supportive and they had never met, and I had never met Jeanne before I did the episode, and she's lovely and funny and wonderful, and I'm really happy that she joined the team and joined the cast. So there are definitely similarities between that fictional life and team and how we all feel as actors who are a part of that show.
TVF: Where do you go from here through the rest of the season?
EM: We get back to business, because there's always a bad guy to catch. We do a creepy Valentine's Day episode. It's the one that airs after the 200th and it's just a Criminal Minds take on couples and Valentine's Day. Then, of course, acknowledging that JJ has been through a big ordeal and she's had off for a couple of weeks, and those little arcs we always try to acknowledge, but it doesn't become a big thing again. We haven't broken the end of the season, the very end of the season, but in true Criminal Minds fashion, there will be a big, probably two-part finale, little movie that we like to do at the end of the year.
TVF: Paget, can we expect to see you in other episodes down the line?

PB: Yes. Absolutely. I don't know that I would want to go back to full time. I had a great time when I was there, but I'm also having a great time now doing other things…I love all those guys. I see them all the time anyway. We've all remained friends and it's a great show and I really care about everybody there, so, I definitely would go back and pop in for an episode here and there if that's what they wanted, yes.
Criminal Minds airs Episode 200 this Wednesday at 9pm on CBS.
Jim Halterman is the West Coast Editor of TV Fanatic and the owner of JimHalterman.com. Follow him on Twitter.