And just like that, the fragile fabric that kept our team together throughout Psych Season 8 starts finally frays as life gets in the way.
There's no question that Psych Season 8 Episode 6 will become another classic episode in the Psych cannon, not only because of its solid writing and epic directorial debut of Kirsten Nelson, but because of the way all the love and emotions poured into it resonate with you long after the episode ends.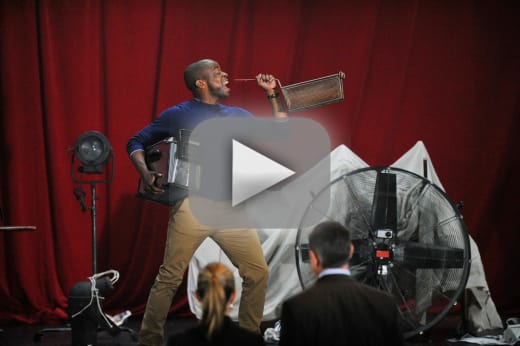 Nothing made me happier than seeing Kirsten Nelson resume her role as Chief Vick, but leave it to Psych to immediately turn the tables on you before you even know what hit you!
For a moment I thought Juliet was truly considering going with Karen of her own accord. Yet at the end of the episode it was clear she had no choice and loved Carlton enough to hurl herself into an exciting - but also very scary - new life journey.
And best of all, each little moment was handled genuinely; you could swear that for a second you weren't just seeing characters cope will the changes, but the actors themselves wrestling with the reality of being in their home stretch.
We'll start with Lassiter as an example. He's wanted nothing more than to become Chief of police from day one. Clearly this is one of those situations where you should have been careful what you wished for because the change in title came with a desk job and having to let go of his confidante.
The magical part of the exchange between Juliet and Lassiter is that they never really talk about how much they love and respect each other. But today, in kind of their final moment together, the words came flowing out. It was a beautiful thing to see.
It was definitely a contrast from Psych Season 4 Episode 16, where Carlton held Juliet in his arms as she bawled in the immediate aftermath of Yin round two. Both moments are defining for this pair and spoke volumes.
The Shawn and Juliet moment had its own heft to it. We rarely see them contend with serious relationship issues, but this one seems to trump them all somehow. Shawn is right that five hours between Santa Babs and San Fran isn't long-distance, but for man without a car or any serious prospects as of this moment, it might as well be the distance between him and China.
This will be Shawn's defining moment. Will he step up and be the man the situation - and Juliet - call for, or will he fall back into his old ways? It about broke my heart to see Juliet so conflicted and in such need of comfort. The way Shawn gently handled her, telling her how much he loved her gray suits and inviting her to cuddle, melted my heart.
Juliet leaving without waking him - and that final scene watching that iconic, though a little less green-looking, Volkswagen Beetle traveling down the road - was perfect beyond words. If I didn't already know that Juliet was in the series finale, I would have sworn it was meant to be the final scene of her in it for the series!
The combined talents of James Roday and Tim Meltreger writing and Kirsten Nelson directing are not to be overlooked. As much as this casts knows how to sing, dance and act the heck out of anything put in front of them, without the words and the way the scenes are shot they would not have half the impact. And tonight was a real punch to the gut, and in the most wonderful way possible.
Now we get to look ahead to the future - and what a wonderful future I have no doubt it will be, even if it is new and uncomfortable to some extent!
This is definitely one for the DVR and On Demand re-watch list! I know I will be!
Lots of moments that really touched our hearts tonight. Which one had you crying more?
C. Charles is a TV Fanatic Staff Writer. Follow her on Twitter.