Welcome to the world, Lily Nora Lassiter!
You heard right! Psych's favorit married couple, Carlowe, are parents now - and to a little girl no less! Now Psych Season 8 Episode 7 will forever be known as the episode in which Lassiter's kid was born.
It might also be remembered as the episode where Henry decided to sell the house, a definite surprise for most fans.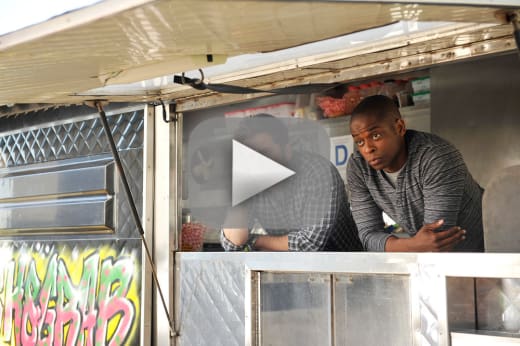 But can we gush for a minute over the fact that Lassiter is finally a dad!? What a short journey it seemed to be, as he and Marlowe only just now began really making plans.
Taking parenting classes, buying Shawn's childhood home - which we'll get to later! - and delivering the child all in one episode? Too much to handle!
Yet I truly hope that Carlton's skills with Lily Nora are much better than they were with her predecessor, the practice doll! He and Marlowe really seem to have it under control and they certainly looked like a very happy family.
The exact opposite seemed true of the other family in this episode, Henry and Shawn. Henry's decision to make incremental changes didn't seem very incremental when he started with selling the most iconic aspect of this show. My jaw dropped to the floor for a second at the realization this plot point was actually happening!
I wondered why. Was Henry sick? Was he seeing someone? It didn't occur to me the man was holding onto it with the hope Maddie would come home.
It really is a lot of space for one person, but we're so used to seeing him mulling around and renovating the humble abode you would have thought he very well intended to live out the rest of his days there.
The consequences of the move are plenty. Most notably, it leaves Shawn with absolutely no recourse should he end up out of a job entirely. Gus won't let Shawn move in. This is truly important to watch because it puts Shawn in a sink or swim situation.
Shawn will be torn between going to Juliet and staying with Gus. With his options limited he will have to choose. I suspect we'll see him find a way to step up and be the man he'll have to be in order to eventually marry Juliet.
But I wouldn't expect that seriousness to come along just yet! We still have two more episodes till the Psych Season 8 finale. And I hope one of them includes Shawn returning to his childhood home newly occupied by the Lassiter clan! I know I'm really going to love that.
The food truck scene was a great one to delve into given their popularity. It certainly makes me want to seek out my nearest food truck park and partake in some delicious flavors, not unlike those being offered at "Mash & Grab!" What about you, Psych-O's?
So, one really question remains: Do you think Shawn will step it up in the coming installments?
C. Charles is a TV Fanatic Staff Writer. Follow her on Twitter.