On Psych's penultimate episode, it was hard to tell which way was up.
From zombies to cable guys, Psych Season 8 Episode 9 was one wild ride!
I have to say, coming into this hour, I was pretty certain that the "Nightmare On State Street" was going to be the fact that Psych was going to have to close its doors.
We even saw it on the installment -  Brannigan is everything a crime-fighting team could need all wrapped into one person. Psych didn't get the credit for the collar, which means that's one more case they haven't been paid for.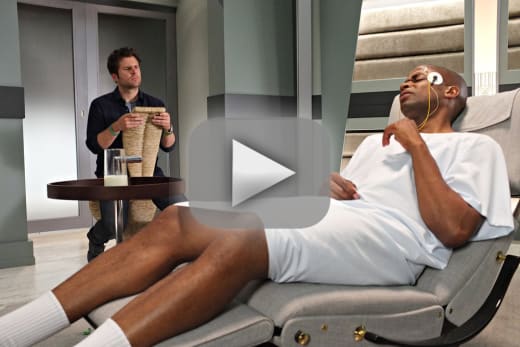 Color me surprised when the real meat of the episode focused on the concept that Gus might have a deep-seated fear of being without Shawn. Why is he thinking this way? They've been together for years and it's reasonable to assume this has never really come up. Could it be foreshadowing something to come in the series finale?
SERIES FINALE?! I can't even believe we're so close!
No better reason to move on to appreciating all the zombie and guest star goodness of the episode. Mr. Psych Creator himself, Steve Franks, made a nice cameo, in addition to a bevy of writers, executive producers, the Bella twins of WWE fame, the super groovy Bruce Campbell and our very favorite repeat offender, Curt Smith.
As far as content goes, this was really one for diehard fans of James Roday-directed episodes. It's not one you want to come across channel flipping and expect to understand much about the show or its characters.
That's okay, though. I've maintained throughout the season that it's one for fans and that's what has made it so much fun.
So, PsychOs, which inside joke from this episode was your favorite?
C. Charles is a TV Fanatic Staff Writer. Follow her on Twitter.