Supernatural Review: True Blood

Sean McKenna at . Updated at .
Metatron is huge. Control of Hell is huge. The Mark of Cain is huge.
And, yet, diving right into a hunt for a vampire nest with two Winchester brothers agreeable in their endeavors without focusing on that major mythology actually put a smile on my face.
Supernatural Season 9 Episode 19 was one of those hours that could fit anywhere, hearkening back to the times when it was simply about the hunt and meeting up with someone who knew of monsters but still needed Sam and Dean to do their work.
Sure, you could throw this episode away, and nothing would really change, but it was an entertaining hour that felt old school and provided a possibility of something still consequential happening.
Lately, it's felt like any character from the past has returned to meet an unfortunate fate. Just look at Garth in Supernatural Season 9 Episode 12.
Sheriff Jody Mills nearly met hers in Supernatural Season 8 Episode 23, but she's been fighting the good fight ever since. But, I had this sinking feeling that her appearance near the end of Supernatural Season 9 was the series preparing her for a final act.
Instead, she was not only able to fight alongside Sam and Dean, but she pulled out alive and with a chance to help have a sort of second chance through the ordeal.
There's not too much you can do with vampires that Supernatural hasn't really already done, but providing a tale that resonated with Jody in the "daughter" of the vampire family at least made it relevant to the characters. It was great not only to touch on her family's history, but provide her eagerness to fight the monsters of the present and help out for the future.
In a way, Dean and Sam took backseat, but their presence wasn't relegated to minor scenes. They had the chance to get into the action, to search for clues and to mingle with their prey. Sure, getting captured by the vampires may have been a surprise after all they've been through over the years, but the brothers do know how to pull out a victory.
I couldn't help but think of the Mark of Cain as Dean decapitated the one vampire, but it's not like he hasn't done something similar before. Kill or be killed, and Dean isn't about to let it be him.
And really, the episode felt like it fell on the typical outline of a Supernatural story. However, it didn't take away from what the hour was trying to convey nor did it mean a boring tale for the brothers and their police compadre.
I'm glad Sam and Dean were ultimately able to take out the vamps, and I'm glad that Jody was able to make the final kill of the mother (great cinematography for that shot by the way) and then choose to help "Alex" after it all.
She could have easily tossed her to the wayside. The Winchesters could have easily just killed her. And yet, there was some hope for redemption, despite all the "blood" she had spilled for her "family."
It was nice to see some turning point of positivity out of it all, and the fact that Jody wasn't killed for some random shock value. There was some true care when it came to connecting her story to the vampire's.
Sometimes, putting on that flannel really helps amp up your hunter status.
We all know the big story is coming with a hopefully satisfying and exciting climax before Supernatural Season 10. But here was a nice reminder of that old school Supernatural with some old school friends.
Sam and Dean work so well together. It's what they do. It's the family business no matter what the differences, angst, apocalyptic issues or monster of the week comes their way.
And even if the series has a few stumbles, we all know that a rev of the Impala, and those two lead characters leading the charge like the brothers they are, saving people and hunting things, will help keep this show alive until that last battle.
Were you worried Jody might die in this episode?
Here's your first look at Supernatural Season 9 Episode 20, "Bloodlines."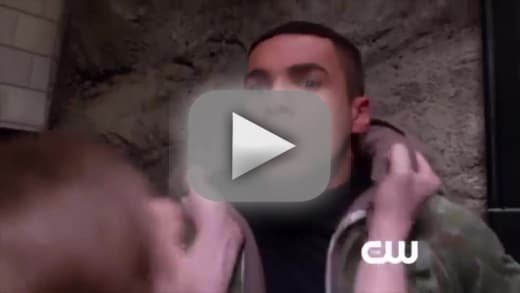 Sean McKenna was a TV Fanatic Staff Writer. He retired in May of 2017. Follow him on Twitter.