The Real Housewives of Atlanta Review: Fighting To Be Queen Bee

Christine Orlando at . Updated at .
It was the final reunion show of The Real Housewives of Atlanta Season 6 Episode 25 - and in the words of Phaedra Parks, "Thank you, Jesus" it's over.
We recap it all with our +/- review...
Let's face it. Kenya Moore and NeNe Leakes have several things in common. They're both around 6 feet tall. They'e both screamers and they both want to be Queen Bee of this show.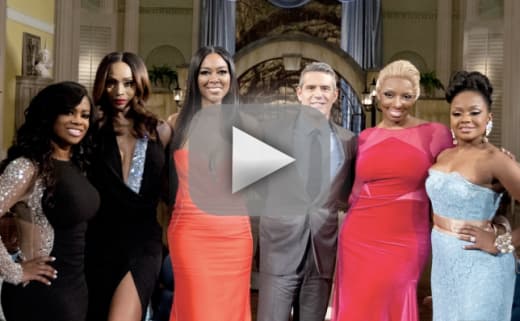 They're both also pretty good at ticking off the other housewives. Plus 20.
Let's start with NeNe who wouldn't apologize to someone if he life depended on it. Minus 33.
Kandi called NeNe out for trashing her mother in NeNe's blog. "Were you saying my mother was down in the gutter?"
Well, in NeNe's defense, Mama Joyce isn't exactly the classiest woman around and since she chooses to be on that sofa, her antics are fair game. Plus 18.
But NeNe's lack of remorse with her, "I said what I said" routine got old fast. And Kandi's right. If someone dissed anyone in NeNe's family, she'd have a meltdown.
The rehashing of Kenya's charity ball was a bore but it was sad to find out the only money the charity made was $500. Minus 37. 
What was funny was watching Kenya's face when NeNe told her to name a charity and NeNe would donate $20,000 to it if Kenya would write a matching check. It was pretty darn obvious that Kenya didn't have the funds to make that match.
NeNe trying to act like she was the queen bee and above the rest of the ladies was rather silly. As Kenya pointed out, "We're all sitting on the same sofa." Plus 10.
NeNe accuses Kenya of wanting to be the new Queen Bee on the show. Well, if her use of the scepter is any indication…
Elsewhere on the sofa, Cynthia is strangely quiet. About the only thing she really shares is that she's grateful that Peter didn't cheat on her when she had her fibroids. How incredibly sad is that? Minus 40.
The husbands show up and Apollo is hanging all over Phaedra. It certainly looks like they're over compensating for their crumbling marriage.
Phaedra rips into "Kenya Moore Whore" when she tells her she won't know anything about her baby daddy other than he needed $10 for a medium pizza and ejaculated in a cup. Plus 27. 
When Kenya says she's done rolling around with pigs, Andy shoots back with, "Does that mean you're leaving the show?" Plus 15 because I couldn't help but laugh at that. 
The reunion did produce some memorable lines including NeNe asking Andy, "Do you need me to pull down your pants and kiss your ass?" when he said he was offended by some of her "queen" comments. Minus 13. Perhaps she needs to remember who signs her paychecks.
At one point NeNe's husband Gregg claims that talking about NeNe calling Peter a bitch isn't worth wasting "valuable brain cells" on any longer. I dare him to find any valuable brain cells on that sofa. 
More disturbing was NeNe commenting on Phaedra's thong between her "big cakes." Minus 19. I think I've lost my appetite permanently. 
When it's finally over, Gregg is upset. Apparently he wanted more screen time. "That's all we get? This is a new suit." 
But once again, I'm with Pheadra. "Thank you Jesus" its' over.  
Episode total = -52! Season total = -1511! 
Who is the Queen Bee of The Real Housewives of Atlanta?
C. Orlando is a TV Fanatic Staff Writer. Follow her on Twitter.