So long, Mormon prison.
I don't know if this was the plan all along, to leave at the start of Hell on Wheels Season 4, or if it was realized that putting Cullen Bohannon off the railroad track just wasn't going to sustain viewer interest for an entire season, especially after Hell on Wheels Season 3 Episode 10 had just put him there to divisive fan reaction.
Interestingly enough, Cullen's confrontation with the Swede did happen, just not quite how most people might have expected. Rather than kill his enemy, he was able to reveal the Swede as a fraud through a rather tricky display of asking for forgiveness of his sins.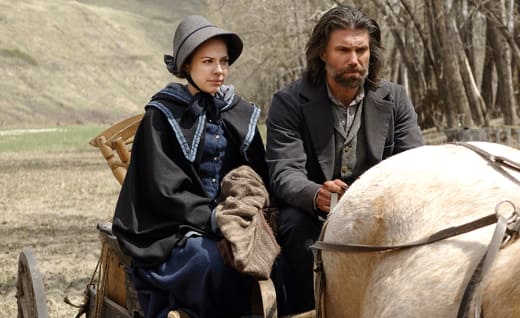 I guess it was clever, seeing as the Swede has become so enveloped in his role as the Bishop and his place with God that Cullen was able to flip the tables on him. Really, Cullen should have taken a bow after their two act play in front of all the people.
Granted, he was able to leave with his wife and child, all while whistling Dixie out the door. I half expected Cullen to give him the middle finger while driving away.
But the Swede wasn't killed, and even if the implication that the Mormon people have "taken care" of him, I find that hard to believe we won't see him again. And as much as I'm ready for the Swede/Cullen saga to be over, it feels like Cullen should be the one to finish the Swede off.
I even expected him to call out the Swede for killing Lily Bell, an act that should still be on his mind even if he's starting a new life.
So it makes me think that perhaps the Swede will return one last time, maybe putting Cullen's wife and/or baby in jeopardy, and Cullen having to pull his gun once again. Or at least that's what I hope/see happening.
Though I do think that returning to Cheyenne with a wife and baby will put a new and interesting spin for his character.
After all, things are quickly changing in the area. And I did like Cullen's expression at seeing the train half in the water on their way back.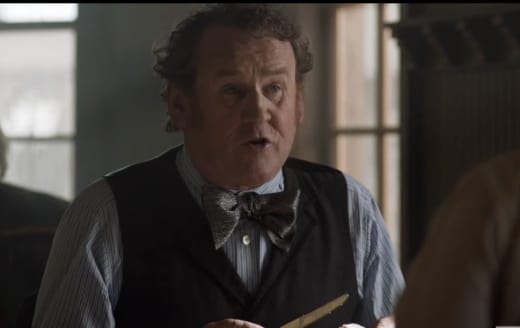 There's definitely something to be said when Durant looks like the good guy and the new governor, the so-called law and order brought to the frontier, is taking up the villain role.
I really like the change in this aspect, especially with the hanging scene near the end of Hell on Wheels Season 4 Episode 2. Durant tried to stop it claiming the killing was just how things were done there, but this new law, new group of government is going to make swift and powerful work out of the lawless land.
And it could put Durant even further out of power down the line. That smirk John Campbell gives while laying out his flag as if he's claiming the area should prove to add an interesting battle of power for the season.
It makes me wonder just how well Cullen will take all the new changes. Can this area be civilized? Can he, even if he has a wife and child?
And Elam? He hasn't returned. But he just can't be dead.
Unfortunate, I was bored with the Ruth and Ezra scenes, although I'm sure there'll be some conflict with her and Cullen's new wife. You know, love triangle stuff.
However, that look into the camera, that piercing stare from Cullen after learning his friend was gone? It's about to go down this Hell on Wheels Season 4, and I think for now, I'm definitely on the right train to see it happen.
Will Cullen's wife and baby survive the season?
Sean McKenna was a TV Fanatic Staff Writer. He retired in May of 2017. Follow him on Twitter.