Franklin & Bash Season 4 Episode 7 Review: Honor Thy Mother

Christine Orlando at . Updated at .
The first words that popped into my head at the start of Franklin & Bash Season 4 Episode 7 were, Oh no he didn't?!?  But yes, he did. 
I know Jared and Colleen were kissing at the end of last week's episode but I didn't really expect to see them do the deed…well, not they we actually saw them do it, but we got the picture of the morning after pretty clearly.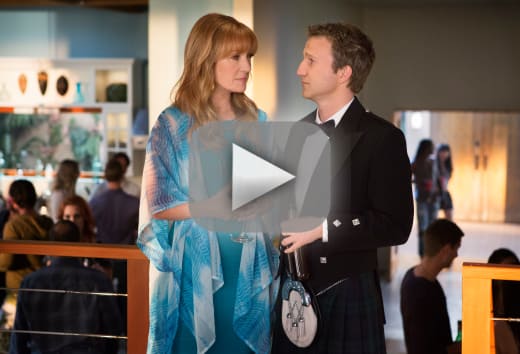 Jared was mortified. This was bad. Really bad, because you just don't sleep with your best friend's mother. You joke about it but you never actually do it. 
Infeld giving Jared advice was one of my favorite scenes. You'd think that Stanton would be cool with something like this considering they just went to court and proved that he'd slept with over 600 people. But no, not only does he advise Jared to tell Peter the truth, he threatens to out him if he doesn't. 
The fire drill and emergency evacuation were perfect. No one can say that Infeld isn't quick on his feet. And Jared trying to walk out with everyone else was comical but when Peter called him out, he panicked in this Franklin & Bash quote…
OK, do I have a sign that says I banged Peter's mom on my forehead? Let me rephrase that before you punch a hole through my face.

Jared
I'd say he could have phrased that first statement a little more tactfully. To Jared's surprise, and dismay, Peter acted like he was okay with everything as long as he thought Jared really cared about his mom. I'll admit that I never truly bought it but Peter did an amazing job messing with his friend. It was far worse than just punching Jared and getting it over with. 
Even funnier was Damien overhearing the entire conversation and calling it his welcome back gift. He's going to use this against Jared every chance he gets and it just makes me all the happier to see Damien back at the firm. 
It was a relief when Peter finally went off on Jared in court but I don't even think Peter was as upset as Jared was with himself…
The fact that I took our friendship and just crashed it into a pole kills me. It makes me want to do a swan dive into a woodchopper.

Jared
All of this sort of overshadowed Pindar's return. Somehow watching Pindar and Dan bond turned out to be the first time I felt a connection to Dan as a new character. He hadn't made a big impression on me thus far but I really enjoyed his interaction with Pindy.
As great as it was to have Pindar back, it was sad to see him go. At least he gets a hot, European bride-to-be as a parting gift. 
The diner case was just a backdrop for everything else that went on in this episode but if they actually took their fee in buffalo wings, I hope the diner has good ones. 
Were you sad to see Pindar leave and how are you feeling about Dan on this season of Franklin & Bash?
C. Orlando is a TV Fanatic Staff Writer. Follow her on Twitter.