While the title of Under the Dome Season 2 Episode 12 was "Turn" the odd way the presented the song for which it was named had me thinking they were starting to play the theme from Deliverance. I thought, well, this can't be good!
The song then played out a bit and it became more clear, but what a strange rendition to choose. Then again, the entire installment was a bit strange, wasn't it?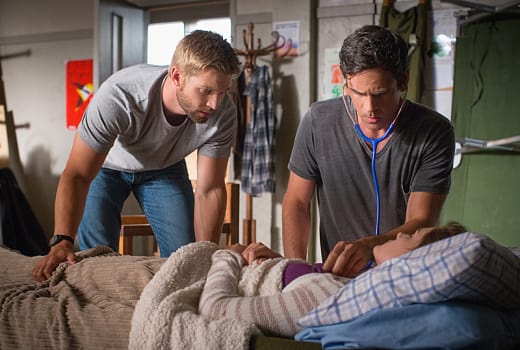 The last few episodes have been really good, but this one felt like a rush to the altar. I'm not sure it was cohesive enough to serve as the hour before the finale, but it is what it is.
The egg seems to be controlling a lot more than the dome. Pauline doing an about face and falling head over heels for Big Jim again seems out of character. Unless she's been crazier than a loon all along; then it fits just fine.
It always gets a little shaky when Jim starts talking about being chosen, but to have Pauline join him in that mantra felt a little off. OK, more than a little. I didn't buy it and didn't like it.
Using Hunter to help explain that things inside were being negatively affected by what they were doing to the egg would have worked if Don Barbara had the power that he claimed to have when he was with his son. Unfortunately, it seems he's a pawn of people above him just like he uses the people below him. 
We already knew the egg was causing Melanie to die again. Did you think that painting was going to help save her? The thought behind the eight hands seemed about right, but I was confused about Pauline's blood on the painting. When Jim first got to her he asked if she did two paintings, but she said no.
Wasn't her blood dripping off of a separate canvas? Did she really do two paintings but not show one to Jim? Did she not take the canvas with her to the rendezvous point? I thought that would be a no-brainer but Joe asked if things were turning out as she painted it. Apparently they all didn't see her magnificent work of art (all these years and she still paints like a child... odd that).
Why did the dome start retracting again when Julia asked it to spare Melanie? Was that because Melanie's too important to the dome and it's mechanics? It wasn't until they were all healing Melanie that Don was caught off guard with the egg and then she was stuck in the dirt-o-cane that created the new tunnel.
I've never thought the actress who played Melanie had any place acting alongside some of the talent on the series and never was that more apparent than when she was grabbing out for a hand -- the look on her face was oddly calm and serene just before she let out a scream and disappeared. 
Dwight Yoakum hasn't been at his Sling Blade best either. When Lyle stabbed Pauline and then was stabbed himself, his "Thank you, Jim," was laughable. However, it was a nice job from both Lyle and Big Jim to create stab wounds that instantly created a bloody mouth with lips covered in the stuff. There must have a been a great sale on fake blood capsules that Under the Dome wanted to put to good use.
Lyle should have grabbed Pauline and jumped into the hole. That would have been more effective than the stabbings. Sherry Stringfield just got here for goodness sakes. If they had jumped, Jim would have still been angry and that seemed to be the desired effect.
I'm interested to see where the new tunnel leads. The odds of it being an easy out are slim. The series could be renewed and they still kind of have to be under the dome to some degree for the name to make sense. I hope we get a hint of the purpose of the egg in the finale so that we can at least theorize if our hopes for a new season don't come to light.
What are your thoughts? A little underwhelming? Hit the comments and let's prepare for the finale! If you need more clues as to the overarching story, you can watch Under the Dome online to help fuel your theories.
Carissa Pavlica is the managing editor and a staff writer and critic for TV Fanatic. She's a member of the Critic's Choice Association, enjoys mentoring writers, conversing with cats, and passionately discussing the nuances of television and film with anyone who will listen. Follow her on Twitter and email her here at TV Fanatic.