Black-ish Season 1 Episode 4 Review: Crazy Mom

Stacy Glanzman at . Updated at .
Good news! ABC has picked up Black-ish for a full season! That means more episodes of this sweet and funny family comedy. Are you excited? 
On Black-ish Season 1 Episode 4 we learn a little bit more about the personalities of our matriarch and patriarch. So, Dre is a total praise hog and Rainbow is a little bit of a control freak, maybe even a little bit OCD.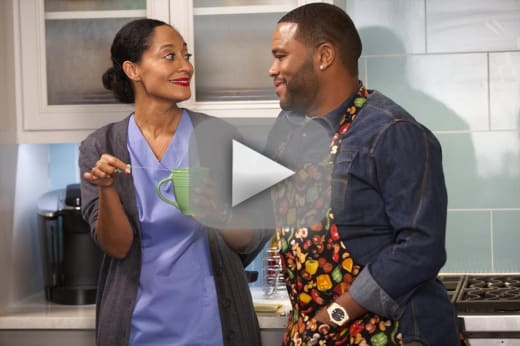 Neither of these revelations is particularly surprising though, and to be a doctor and a mom of four kids, it's probably necessary to need some control over your home. If I were her and my husband stocked my fridge with potato chips I think I'd assume he was messing up on purpose to get out of it...at least, I would hope that was the case. That's not being a control freak, that's just common sense. 
Dre taking over mom duties for the week provided her with some much deserved free time, but for the most part she seemed to be having a hard time relaxing and enjoying it. Granted, she did manage to at least squeeze in one night of wine in the tub so good for her. 
I know I've mentioned it before, but the acting on this show really is outstanding. The whole exchange between Rainbow and Dre about the silverware drawer and Harriet Tubman had me rolling. Their facial expressions alone were priceless. I wonder how many takes that scene took for them to do it without laughing.  
Laurence Fishburne had some great moments tonight as well. He seems to just enjoy being along for the ride in this crazy household (not that he doesn't contribute to the craziness). It's good he's there to offer Dre advice when he needs it, and especially when he doesn't know he needs it. Pops tries his best to stop Dre from digging himself into an even deeper hole with Rainbow. 
Dre: Pops, your paper is killing me man.
Pops: Well how else would you know that I was here to witness you unravel the fabric of your marriage, son?
Dre may want to brush up on his black history if he's going to continue to teach his kids the importance of understanding their culture. As funny as the scene at the school was, I think perhaps Dre should leave the history lessons to the teachers. That cornbread looked really good though. 
After the first few episodes spent a lot of time on Dre and Junior's relationship, Junior took a back seat this week in favor of Dre and Rainbow. Obviously Dre is the focus of the series, but it's nice to see him interact with the whole family. I wonder when Zoey will get her chance. She hasn't had much to do on the series so far and I think we're due for Dre/Zoey storyline, don't you? 
Now that the show has been picked up, what are you hoping to see as the season continues? Do you want to learn more about specific characters or are there any topics you'd like to see the show tackle? Hit the comments with your thoughts on the series so far and where you think its heading.  
Don't forget you can watch Black-ish online and check out your favorite lines on the Black-ish quotes page. 
Stacy Glanzman was a staff writer for TV Fanatic. She retired in March, 2019.