How To Get Away With Murder Scoop: 7 Things to Know About Bonnie Winterbottom
Jim Halterman at .
Who is Bonnie Winterbottom?
Besides having one of the more ironic names on How To Get Away With Murder, viewers have only gotten bits and pieces into who this woman is. 
We know she works closely with Lawyer/Professor Annalise Keating. But, as we saw on How To Get Away With Murder Season 1 Episode 5, they're not exactly BFFs who share their innermost secrets. (There are hints that Bonnie's recent actions were more for Keating's husband than Keating herself.)
And Bonnie is helping guide the chosen few who are working under Keating... yet she's also made it clear to them that they aren't ever going to be friends. 
To see what Bonnie Winterbottom is truly all about, I sat down with actress Liza Weil and uncovered seven things about the character and the actress, who is still remembered for her previous roles on Scandal and Gilmore Girls.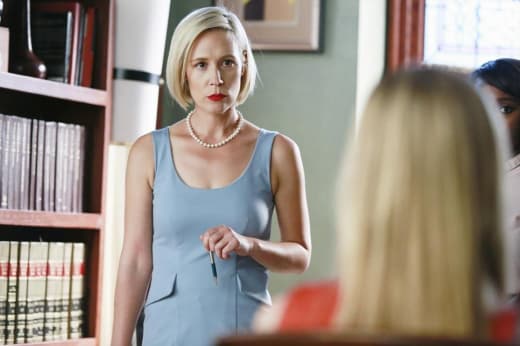 Her Character Is Complicated With a Capital C: As we get to know Bonnie more and more, maybe we'll start to see some of the cracks in the armor. "I think you always want to find people that are flawed and complicated and interesting and I think that's good storytelling because that is a representation of what we're all going through," Weil said. "We're all going through our own private battles every day and keeping it from people and people don't often express to each other what the truth is and what's going on with each other. The idea of playing someone who's struggling in one way or another is always interesting to me."
Bonnie's Loyalties Are... Also Complicated: Based on last week's episode, we know that Bonnie has loyalty to Annalise and to her philandering husband. Where do her true loyalties lie? "Primarily her loyalty is with Annalise and she's extremely determined to help carry out that dirty work, whatever that is. But we're going to discover that all these people are unknowable and that they're not how they seemed and everyone has this underlying motivation driving them as well."
Shondaland Rules: Weil said between Scandal and HTGAWM, she feels fortunate about the positive sets on both shows. "Shondaland always creates an extraordinary group of people and it's always a great work environment," she gushed. "When you feel that way and you feel happy at work it's always sad to leave that. [After Scandal] I was ready to go be normal with my family again for a minute. So it was perfect the way that it ended up. And I got to do the dead river moments? Who gets to do that?"
And she's having a similar experience on HTGAWM: "I have to say, when we shot this pilot, it was really probably the best work experience I'd ever had and it didn't feel like we were shooting a pilot. It was like we all came together to make this thing and it was almost the most natural thing in the world."
She Doesn't Need To Know All: HTGAWM is surprising us week after week, but is Weil the kind of actor that likes to know as much as possible?
"I think as a younger actress I always wanted to know everything and now I see that it's a huge gift to go in blind," she said. "It's exciting to just play the beats that you're given to the best of your ability and us, as people, don't know what our day is going to be when we wake up in the morning and if you have too much time with those moments, it can work against you sometimes. As of now, I'm very excited not to know very much and take it as it comes."
The Name Is Fabulous! Is a name like Bonnie Winterbottom just a name or is there some significance to it? "Yes, it's a fabulous name and I would take the job based on the character name alone!" She added, "I think that bonnie presents as being an observant team player and the students quickly discover that she has an edge. I think there is an element of coldness that's going to get explored there."
No Regrets: Have you forgotten that Weil played the integral role of Amanda Tanner on Scandal Season 1? Does Weil have any regrets that the role didn't last longer since the show became a monster hit? "No, I think that job ended up in the perfect incarnation. I was still a very new mom at that point and so it was really the perfect amount of time…it was a very intense job for six episodes."
Paris 4Ever: No shock that Weil still hears about Paris Gellar, the character she played on Gilmore Girls, and that's all fine with her. "I still hear from mothers and daughter that they watched that show together and it was that one hour a week that they would not roll their eyes and show disdain and contempt for each other. Especially now being a mother, I hope I have that opportunity to share that with her and me being on it doesn't make it stupid for her."
How To Get Away With Murder Season 1 airs Thursdays at 10/9c on ABC.
Jim Halterman is the West Coast Editor of TV Fanatic and the owner of JimHalterman.com. Follow him on Twitter.