Red Band Society Season 1 Episode 5 Review: So Tell What You Want What You Really Really Want

Christine Orlando at . Updated at .
In some ways Red Band Society Season 1 Episode 5 could have been named The Charlie Episode for which we've been waiting. Or in other words, How Coma Boy Ended Up in His Coma. 
The moment Charlie's father told him to lie down and take off his seatbelt my stomach sank. Never, ever take off your seatbelt. That's when bad things happen.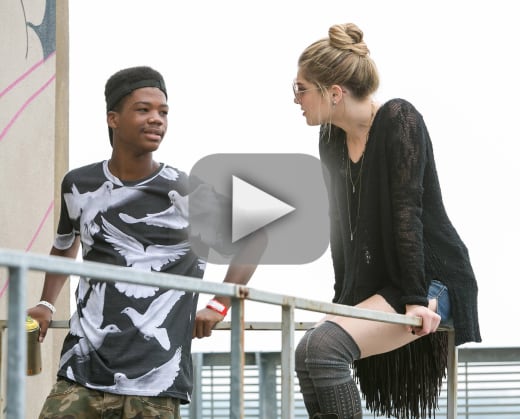 The rift between Charlie's parents was completely realistic as I believe very few parents could get through such events without tearing one another apart. Even Mandy later admitted that it was easier to be furious at Nick than deal with the rest of her emotions concerning Charlie's fate.
I had little doubt the insurance company would choose to move Charlie to a long-term care facility. As a matter of fact I often wonder what insurance company would let these kids hang out in the hospital for so long. These days patients are generally sent home, even with serious illness once they're considered stable and then come back for treatments. 
But back to Charlie. it was Nurse Jackson's reaction that surprised me the most. First, her outburst at Dr. McAndrews. It's obvious he cares about his patients but a doctor can't get so emotionally attached that he can no longer make rational decisions concerning his patient's care. Her reaction seemed over the top.
As did putting Charlie's name on a vial of someone else's blood. I'm assuming this is some sort of delaying tactic to give Charlie more time to come out of his coma but I hope she knows what she's doing. Not only does it seem reckless and dangerous for Charlie, she could lose her entire career. 
Elsewhere, Leo and Emma sniped at one another the entire episode as in this Red Band Society quote...
Leo: Can you just accept the apology and stop being such a bitch.
Emma: Wow! Worst apology ever.
The worst part was that Jordi appeared to enjoy it. Honestly, Jordi is my least favorite character on the show. On the surface he seems like such a sympathetic kid with a mother who abandoned him while he's fighting cancer but there's something about him I just don't trust. 
I couldn't help but root for Leo when he kissed Emma. She keeps thinking that he's choosing Kara over her and he needed to find a way to prove her wrong. But Emma's quite a stubborn girl. I'm not sure that kiss was enough.
Finally we get to Dash and Kara. Kara really has no clue how the hospital works when it comes to organ transplants. Dash was right, she needs to educate herself if she has any hope of understanding what she's up against.
Dash went through a lot of trouble to tag the roof of that building. Probably the best part of the mural was watching he and Kara work together to get him there. I wouldn't mind seeing more of them in the future.
So what did you think of the Charlie Episode and do you think Coma Boy will ever emerge from his coma? 
You can watch Red Band Society online any time here at TV Fanatic. 
C. Orlando is a TV Fanatic Staff Writer. Follow her on Twitter.