Resurrection Season 2 Episode 3 Review: Multiple
Paul Dailly at . Updated at .
Resurrection Season 2 Episode 3 featured interesting directions for some of the show's main storylines. 
Pastor Tom, one of few genuinely nice people in Arcadia, is baptizing the returned when they stumble across human remains in the river.
I immediately knew these had to be the remains we witnessed at the conclusion of Resurrection Season 2 Episode 2.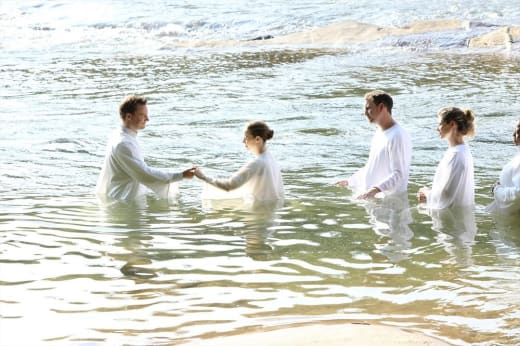 This was all but confirmed when Fred went to the factory and found what appeared to be a finger. 
Margaret: Did you see your father this morning?
Maggie: Yes
Margaret: Did you talk to him?
Maggie: Just about work. Look, I really don't wanna get into this just now.
Maggie made herself useful and quickly begun examining the bones and realizes that there are 6 bodies, but only two victims, as there are three multiples of each. She also figured that the bodies are from over eighty years ago!
It appears that the two victims are murdered again whenever they return.
We all know how people react when it comes to someone different. I want to know how you guarantee his safety?

Lucille
I love Maggie as a character, but she is being used to solve pretty much every mystery that pops up on the show and it is becoming a little tedious.
At the moment it's looking like Margaret killed, or at least played a big part in the death of these people. First, her reaction to the bones in the boxes made her look sketchy. Second, she tells Maggie that the returned are not saints and they didn't deserve a second chance at life.
It certainly sounds like she is admitting to something.
32 years. Maybe it's time I stopped punishing myself

Henry
Bellamy's search for answers led him to his previous body. I have a feeling this won't be his only vessel.
The show really excels in emotional scenes. How difficult was it to watch Bellamy's faux funeral? For the past few weeks, I have been listening clearly for the woman from the government's name, but when I saw Bellamy's cell screen, which read "Government Bitch," I knew I wasn't the only one! She showed a somewhat softer side this week. It made her seem like a real person and not the one dimensional bitch we have seen the last two weeks.
I'm not shocked that Bellamy told her about the remains being found. The man doesn't know who to trust, and let's face it, he's probably quite expendable to the government. He probably feels like he needs to give them something good to stay in Arcadia. 
It was heartbreaking to see Maggie's reaction to the remains being seized by the government. She found out so much information in so little time.
I really liked Carl in this episode. His brother is a vulgar bully. After a torrent of physical and mental abuse, he decided to kill his brother. Unsurprisingly, he didn't stay dead. Just as Carl finished burying his body, the front door opened and another copy of him appeared, ordering Carl to make him food.
But -- the episode wasn't all dark!! One of the lighter moments featured a hilariously awkward scene at the school. After Margaret's remarks about Jacob's education, Henry and Lucille asked about getting Henry enrolled into school. Upon being introduced to Henry's teacher, she assumes they are his grandparents. Lucille was speechless, but I'm sure it's not the first time this has happened.
This was a really interesting installment. I actually enjoyed the slower pace this week, as opposed to last week when things went so fast. It helped weave some key storylines together.
I hope we begin to get more concrete answers in the coming weeks. Remember you can revisit Arcadia anytime, when you watch Resurrection online, right here on TV Fanatic.
What did you think of the episode? Did Margaret kills those people? Sound off below.
Paul Dailly is the Associate Editor for TV Fanatic. Follow him on Twitter.