Black-ish Season 1 Episode 7 Review: The Gift of Hunger

Stacy Glanzman at . Updated at .
With black-ish Season 1 Episode 7, we finally got our Dre/Zoey episode that I knew must be coming.
They had their moments in the Halloween episode, but this week's story line gave us a much better opportunity to view their relationship in action.
Black-ish really does a great job of developing each character's personality a little bit at a time. Though Junior may not have gotten the brains the women in the family received, he's passionate and a hard worker with the determination needed to succeed. Granted his goal of the episode was only to get everyone's coffee orders right, but Dre was proud of him when he accomplished it.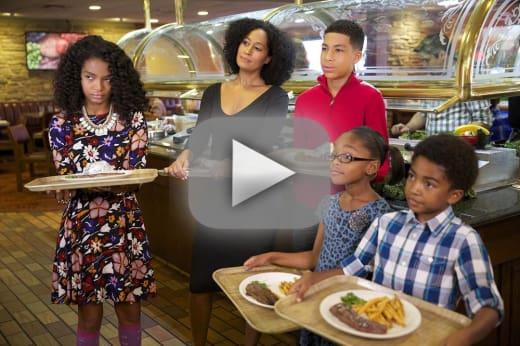 We got to delve a little more into Zoey this week, who previously was the most underused member of the family. Zoey originally came off as just one of the ditzy popular girls who was mostly wrapped up in herself, but we learned there's a lot more to her. Dre is surprised to discover she has his business sense and jumps at the chance to help her make it grow.
The twins were their usual adorable selves when they started their own lemonade stand. It's not at all surprising they were making bank, all they really need to do is stand there and look cute. Although, Rainbow may have been the one to make out the best after her neighbor spotted her at the stand alone. The Rainbow/Jeanine subplot was probably the funniest.
Rainbow most likely cared a little too much about what her neighbors thought of her and her family, but she's worked too hard to get where she is, so I could understand it, even if she did steal a scholarship in the process. 
Dre I have worked too hard and I went to school for too long and I took way too much Affirmative Action money. I mean, I may have even taken a scholarship from a Pacific Islander. Okay I did, but I can easily pass for a Samoan.

Rainbow
This show has made it pretty clear that a big part of Dre's personalty is getting overly excited and this week was no exception. He pushes Zoey to take charge of her new business venture, but then ends up taking over when she actually shows initiative. Zoey doesn't back down easily though and I like that she stands up to him. 
Dre: Babe I'm just trying to give you a nudge, help you pave the road.
Zoey: Pave the road? you ran me over.
I have to say I really wish the make up company hadn't been called Hard Candy. There's a movie with that title starring a young Ellen Page and it's one of the most disturbing movies I've ever seen. I have a hard time hearing Hard Candy without that movie immediately coming to mind. Has anyone else seen it? 
My other complaint for the week is again the lack of Pops. Where is he? I really hope he makes more appearances soon. Laurence Fishburne is hilarious in the role and I've missed him in these last two episodes. 
I'm still not sure how I feel about Charlie. I didn't think he added much to the plot, but he's had his moments. I wonder if we'll ever see his son again or if he and Junior are still friends. 
My favorite part was at the end as Rainbow finally figured out how to handle the situation with her neighbor. Her plan to stand by the mailbox in that elegant dress at eleven pm was not her best idea, but "borrowing" that car was perfect. Jeanine had no idea how to react to that and Rainbow played it perfectly. 
What did you guys think? So far this season of black-ish has been pretty solid. I think it's safe to say this is the best new comedy of the fall. Do you agree? 
Don't forget you can watch black-ish online any time and check out the black-ish quotes page for your favorite lines. 
Stacy Glanzman was a staff writer for TV Fanatic. She retired in March, 2019.