Black-ish Season 1 Episode 8 Review: Oedipal Triangle

Stacy Glanzman at . Updated at .
Winter is coming to Los Angeles when Dre's mom Ruby comes to visit on black-ish Season 1 Episode 8. Grandpa Pops has the right idea and he high-tails it to Bermuda. 
Grandma Ruby doesn't make quite the impression that Grandpa Pops does, but that doesn't mean she wasn't entertaining. The more I watch black-ish the more I love and respect Rainbow. The woman has to put up with so much!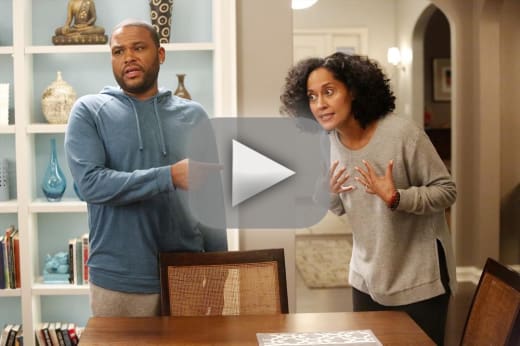 Seriously, how does she do it? Dre's a bit of a loose cannon on a good day and she has four kids and a father-in-law all under one roof. On top of that she works full time as a doctor. I actually wouldn't mind getting to see her in the hospital a little more. I know the show centers around Dre, but I would love to hear her vent to her coworkers once in awhile. Imagine the stories she could tell them!
Wife and mother-in-law don't get along is not exactly a new concept and though I enjoyed seeing the two women battle it out; it wasn't one of my favorite episodes. The acting was on point as usual, but for the most part the jokes weren't quite as funny. 
The B-plot with Zoey and Junior was not great either. It was okay and I suppose it's better to see Zoey using her popularity to help Junior rather than ignoring him, but it was really more of a game to her than anything else. It was almost like a "She's All That" situation in reverse, but it could have been funnier. Maybe if we got to see her give Junior a makeover it could have added to the humor. 
Black-ish sure does love to play up the awkward moments. First with shirtless sex talks and now with Dre's relationship with his mom. I'm familiar with mama's boys, but I can't imagine any guy is going to spread flower petals on his bed before his mom comes to visit unless maybe he's Norman Bates. At least he was still fully clothed when he fell asleep in bed with her!
Baby it's not what it looks like, I just ate too many biscuits. It was an over-the-cover biscuit nap!

Dre
I really liked the sweet scene between Dre and Zoey at the end. Zoey's advice was spot-on and exactly what Dre needed to hear. His speech to his mom was also exactly what Rainbow needed to hear and luckily she just happened to overhear it. 
What did you guys think of Mama Ruby? Do you want to see more of her or is one episode enough for now? If she does come back, I think we need to see her interact with Pops. Perhaps a surprise visit or his flight to Bermuda gets canceled or something.
No new episode next week but you can always watch black-ish online to get your fix or visit the black-ish quotes page. Happy Thanksgiving! 
Stacy Glanzman was a staff writer for TV Fanatic. She retired in March, 2019.