Covert Affairs Season 5 Episode 12 Review: Starlings Of The Slipstream
Paul Dailly at . Updated at .
The web continued to spin more lies on Covert Affairs Season 5 Episode 12 -- and it made for an exciting hour of television!
We obviously knew going into this episode that a good portion of it was going to be about saving Auggie. USA did a great job promoting it through all resources available to them, but the hour wasn't all about that one storyline.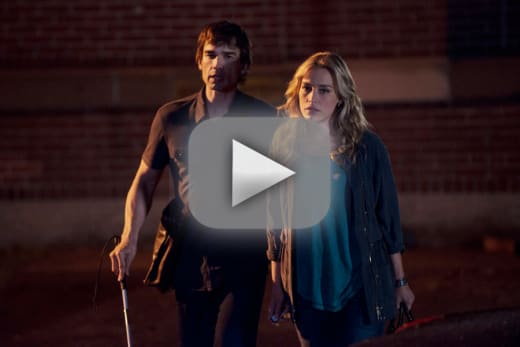 Auggie was understandably beat up about Tony's death and knew there was more to the story. As I mentioned in the Covert Affairs Season 5 Episode 11 review -- Tony did not die of alcohol poisoning. Christopher Gorham's acting was phenomenal. He fully embodied his character and it was impossible not to feel for Auggie. He is on a downward spiral. Matters got worse when Joan effectively suspended him from work; the poor guy didn't know what to do next. 
I really enjoyed his scenes with McQuaid this week. The two characters didn't meet under the best circumstances, and Auggie was a little bit hostile towards him. Auggie probably feels as though McQuaid took Annie away from him and resents him. That's how I'd feel.
I know what it's like to lose a brother in arms. It makes you angry at the world and everyone in it.

McQuaid
The fight scene at the conclusion was one of the most tense moments I have witnessed on TV in recent memory. I knew there would be no way Auggie would be able to take the two goons down, but we got a glimmer of hope when he took down one of them -- until he got back up and gave him an electric shock. 
I can't believe he was kidnapped, I think the "save Auggie" promotion would have been better suited to next week's episode, considering we don't know what will happen. His captors are evil and most certainly on Belenko's payroll. I'm eager to find out how this will affect Annie. She will be beating herself up that she wasn't there to save him.
Speaking of Annie, the globe-trotting woman with a heart condition found herself in Germany. Her mission was interesting. She managed to identify the woman from the rooftop in Istanbul as Olga, but is she really the big bad wolf we have been led to believe? I don't think so. Her statement to Annie about them being on the same side shocked me to the core. 
We're gonna nail the bad guys ass to the wall.

Annie
The woman Annie had been pursuing the whole time might actually be good. I had to rewind that scene twice while lifting my jaw from the floor. When she took Annie out of police custody, I expected a big fight scene and Annie to barely escape. This is the most exciting storyline as it's ripe with potential. 
We also met the woman who created the poison which killed Tony. She admitted to Annie she was working for Belenko. Her relationship with him seemed like a rehash of the one he had with Caitlyn, but Brita didn't appear to be evil. I'm wondering if she did really kill herself, or if some of the poison was already in the bottle.
Brita, I cannot keep you safe unless I know everything.

Annie
Did anyone notice the green bags from last week under her desk? I need to know what was in those!
Back at Langley, Joan being pulled on for a polygraph just two months after her annual one was yet another shock. The episode was full of shocks! I let out a huge sigh of relief after Arthur investigated the reasoning behind this and found out she is being offered a new job. Upon thinking about it, something feels off. What's really going on?
All things considered "Starlings Of The Slipstream" was a thrilling installment. I don't know where the show will go over the final four episodes of the season, but hooked, right.
Remember you can watch Covert Affairs online right her on TV Fanatic, Catch up on the action now!
What did you think of the episode? What did you think about the Olga reveal? Who has Auggie? Sound off below!
Paul Dailly is the Associate Editor for TV Fanatic. Follow him on Twitter.