Forever Season 1 Episode 8 Review: The Ecstasy of Agony
Paul Dailly at . Updated at .
It's a good thing Doctor Henry Morgan is immortal.
Honestly, watching Forever Season 1 Episode 8 made me fear for our favorite Medical Examiner's safety; from him being strung up by Peyton from One Tree Hill, to being almost electrocuted to death by a crazed fan of hers. Yes, Hilarie Burton guest-starred this week and she was excellent in her role.
The chemistry between Iona and Henry kept me glued to the screen. She genuinely trusted him and it appeared he felt the same way. The actress needs to find a new regular gig, she is a complete scene stealer.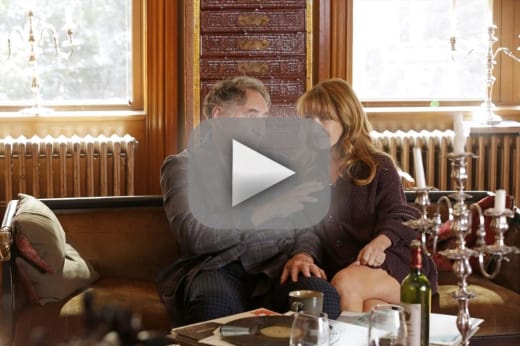 It was evident a lot of people were concerned by the subject matter tonight. What people need to remember is that this is a TV show, on broadcast television. This is not a premium cable show. I honestly read some posts online with people saying that they won't be letting the kids watch this episode. Kids shouldn't be watching Forever regardless of the time slot. It's a show for the adults. 
The case was very intricate. The whole scene involving Henry examining the body and making quick observations stunned me. He is really good at what he does. I love how he helps those of us at home understand the layers of pain the victim went through with his witty dialog and of course, his narration. 
Our body feels pain to warn us of danger, but it also reminds us that we're alive. That we still feel. That's why some of us seek it out, while others choose to numb it.

Henry
I was quick to say that Iona was innocent. It didn't make sense to have her as the killer. it would have been too obvious. It sure seemed like she had done the job for a long time and none of her clients wound up dead, so why would she start killing now?
Did anyone else find the scene with Henry holding the knife a bit over dramatic?
Jo: What is your point Henry?
Henry: It's a fine line between pleasure and pain.
I honestly, for a split second, thought it was Adam who orchestrated everything in order to kidnap Henry. Which reminds me, where has he been? We need answers.
I didn't enjoy Abe's storyline this week. I found the character of Maureen incredibly annoying. She felt the need to comment on everything as if she knew about it. She didn't. 
Henry doesn't own a cell phone. He owns a watch and is never late.

Abe
Introducing another previous flame of Henry's will probably bother some fans. Abigail was the first love we met, so she is the one for him. She actually embraced him for who he is and believed him about his secret. Nora came around over a hundred years before and because of that, we got to see some of the events directly after he became immortal. 
I didn't like Nora, purely because she didn't believe Henry. If your beloved returned after being presumed dead and claimed to be immortal, would you believe them? No, neither would I. She did have a point. 
My favorite scene of the night was when Iona was arrested and Jo walked in on Henry strung up. He must have looked like a right creep after the things he was saying to Jo earlier.
When Henry was kidnapped, Jo looked incredibly worried. It made me think about whether she has feelings for him, or if she sees him as a friend. I will admit, I think a romantic pairing between these two could kill the show. I feel like it would ruin the dynamic between the two characters forever.
I got so excited when Henry told Jo he had been shot. It seemed like he was going to tell her his story and my jaw nearly hit the floor. But, of course the were interrupted; it wasn't meant to be. 
This was a really strong outing. The series is improving every week and it fully deserved the full season pick up. My main hope is we start seeing a lot more of Adam. Obviously the writers can't give us too much at once, but I want something solid in the next few episodes.
 Remember you can watch Forever online, right here on TV Fanatic. Watch now if you missed any clues.
What did you think of the episode? How do you feel about Henry and Jo having a romance? Did you enjoy the addition of Hilarie Burton? Sound off below!
Paul Dailly is the Associate Editor for TV Fanatic. Follow him on Twitter.