Red Band Society Season 1 Episode 8 Review: Get Outta My Dreams, Get Into My Car

Christine Orlando at . Updated at .
It's all about making it work on Red Band Society Season 1 Episode 8 but how much of it was actually working? Well that depended upon who you asked.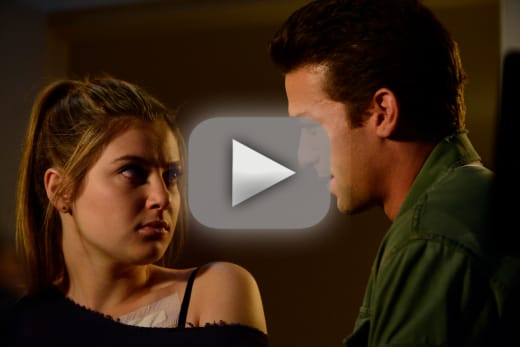 Charlie was out of his coma but that didn't mean he was back to normal. Coma boy was still pretty quiet as he couldn't speak or move but he could blink to answer questions so that's a step in the right direction. 
Dr. Naday arrived but he wasn't quite what anyone expected. He didn't appear to read charts or order tests. Instead he played the guitar, sang and drove Dr. McAndrews crazy. 
He's basically like a high priced playmate for the kid.

Dr. McAndrew
With everyone firing questions at Charlie and all of that singing, I wondered when anyone would let the poor kid get any rest. Being fresh out of a coma must be exhausting. 
Whether it was new age crap or not, Naday did seem to have a point. Charlie's ability to heal was more complex than reading test results. He had to want to get better and the odd doctor connected with that on a level no one else could. 
Elsewhere, Kara went a little crazy with jealousy when she first saw Ashley and it was hard to blame her. But the gorgeous young woman was actually Hunter's sister. Kara's reaction to finding out Hunter was turning down a piece of his sister's liver was visceral as she said in this Red Band Society quote...
If anyone even joked about giving me their heart I would rip it out of their chest with my bare hands. Rejecting a liver is an insult to everyone on the organ donor list and it doesn't make you tough, Hunter. I just makes you a stubborn, suicidal moron.

Kara
So it was a definite surprise that she came to see things from his point of view. Of course it's a bit unusual for Kara to see things from anyone's point of view other than her own. 
Finally we get to the foray of Jordi, Dash, Leo and Emma to bring back presents for Charlie; nothing went as planned. I give the boys an A for effort as they tried to procure a stripper to flash Charlie, but I was a little surprised they didn't try to broker a deal with Kara. 
Emma's progress with the cookie was short lived as she basically freaked out over cheese doodle dust on her fingers. It was all too much for her to handle and by the end of the day she was so brittle she threw her dinner across the room. 
I'm hoping we get to Emma's back story soon before she simply fades away. I have to think her heart is in as much danger as Kara's of failing. 
Which leaves me to wonder...when we get to season's end, will everyone survive on The Red Band Society?
You can watch Red Band Society online any time here at TV Fanatic. 
C. Orlando is a TV Fanatic Staff Writer. Follow her on Twitter.