It's the final season of The Newsroom Season 3 Episode 1 and the News Night team was still feeling gun-shy after the disaster known as Genoa. Yet despite their best intentions, they managed to walk into the fray once again.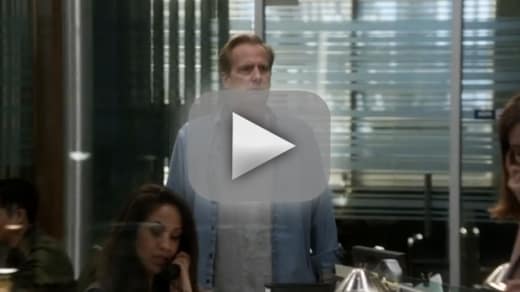 I was relieved to hear that Will and Mac were planning their wedding. I had an irrational fear that things would have come crashing back to earth after Will's grand proposal last season. Thankfully there was no need to worry. The only obstacle appears to be Mac insisting on having nine bridesmaids. At that rate Will might have to hire people to be groomsmen as he told Mac in this The Newsroom quote...
I've worked very hard at cultivating no friendships outside of work and to be honest I was doing fine cultivating no friendships inside of work until you came along.

Will
The big story was the Boston Marathon bombing and everyone scrambled to cover a story with only credible information. It meant that ACN was the only one not talking about the bombing while other networks jumped in. As much as I appreciated them making the effort to be professional, I could just picture millions of viewers changing the channel. We're all so used to getting 24-hour news that we expect it instantaneously, whether it's accurate or not. 
What's horrifying was when real news networks began to rely on social media for their information. As Jim pointed out...
Crowd sourcing law enforcement. That went off without a hitch in Salem.

Jim
I was a little surprised that everyone was still doubting Maggie's abilities after her African adventure. It was hard to tell how she was doing after the trauma. At least her hair was back to a normal color and style otherwise I wonder if Eliott would have been so quick to put her on the air. 
And I, too, would like to know when nuts started to be acceptable in chicken salad; they just don't belong. 
Neal was so eager to be cautious and get more intel on his Kundu story that he ended up asking his anonymous source to steal classified information. I appreciated how quickly Will picked up on that thread. It was the difference between enthusiasm and experience. 
I was wondering where Sloan's story was headed and although her $24,000 Bloomberg monitor was impressive, I was a little bored...until she realized that Reese's siblings were behind a hostile takeover for ACN. I'm assuming we'll meet the twins sometime soon. 
It's been a year since The Newsroom graced our screens and I've missed the characters, 20/20 hindsight into the news and quick witted dialogue. As sad as I am to see it go, I'm going to enjoy every episode of this final ride. 
C. Orlando is a TV Fanatic Staff Writer. Follow her on Twitter.