Black-ish Season 1 Episode 10 Review: Black Santa/White Christmas

Stacy Glanzman at . Updated at .
Is there a new tradition starting where episodes end with someone who can't sing? 
One thing we have learned from black-ish so far is that Dre REALLY loves holidays. Between black-ish Season 1 Episode 10's Christmas theme and black-ish Season 1 Episode 6 it's pretty clear he's a stickler for traditions. 
This episode felt a little off to me. There were some really funny exchanges, but the whole mix of race and Santa didn't really hit the mark in my opinion.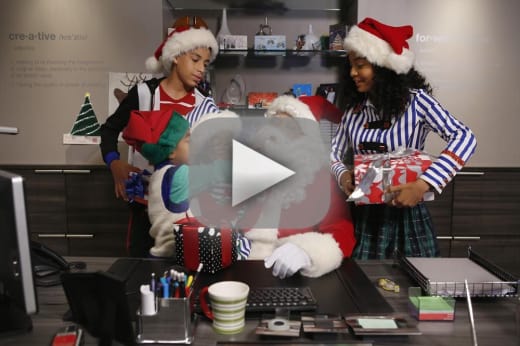 Maybe it's because it all felt a little repetitive. Ruby returns and she and Rainbow find themselves at odds again. Why does Rainbow all of a sudden feel the need to take over Christmas dinner if Ruby has been doing it for years? I didn't feel like there was any real explanation why this became so important to her. Honestly, considering how much she does and how hard she works, I would think she'd appreciate a break from cooking. 
Who else saw the catering thing coming at the end? I had a feeling Ruby wasn't actually doing the cooking, but I enjoyed the whole exchange that centered around it. Rainbow insisting she get some credit for the food, Dre asking about the containers, and Rainbow shutting him up with the comment on his browsing history was pretty entertaining. Rainbow basically owned Dre and Ruby in that scene.
Between last week's karaoke and this week's caroling, I think it's safe to say this is not a very musical family. Zoey claims Ruby has a better voice, but by comparison that would not be a hard feat to accomplish. Maybe one day it'll be Dre's turn to show off his pipes. 
With Ruby coming to visit every Christmas, I guess that means Pops is back in Bermuda. I love the whole cast and though the show doesn't need him to be in every episode, I hope we get to see more of him in the second half of the season. He's a great addition and brilliant in the role. 
The office scene with Dre's pitch for Santa was pretty funny. Charlie has grown on me and I've said before that he works best in small doses like this one. Plus that scene also gave us this: 
Josh: That was beautiful. You're going to nail Santa.
Dre: Terrible choice of words.
Personally, I preferred the Halloween episode to this one, but what did you guys think? If you missed it or any other episode, you can watch black-ish online and catch up before it returns. Happy holidays! 
Stacy Glanzman was a staff writer for TV Fanatic. She retired in March, 2019.