Black-ish Season 1 Episode 9 Review: Colored Commentary

Stacy Glanzman at . Updated at .
It definitely was not Dre's weekend on black-ish Season 1 Episode 9. Every time he thought he knew what he was doing, it turned out he couldn't be more wrong. 
In Dre's defense, he really was trying. He listened when Rainbow explained why she was upset after the baseball game and when the issue came up again at the art show, he thought he was doing the right thing by not contradicting her in public. He may have gotten it wrong, but at least he made an effort.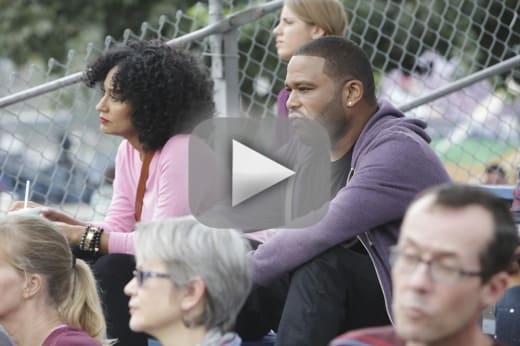 Going on and on about the wrong artist is embarrassing, but Dre correcting her in front of those people would have been too. I think his best option would have been to make up some excuse and get her out of the conversation. "Honey, sorry to interrupt but I just got a text message from the kids. Nice to meet you but we have to go." Something like that could have helped save some face. 
Speaking of the kids, there is no way this was the first time Zoey and Junior have been stuck with babysitting duty right? They sure made it seem that way, but that is pretty hard to believe. Especially considering Dre and Rainbow claimed that's the reason they waited so long to have the twins. 
Dre: Not only is it fair, it's by design. Your mother and I waited eight years after you were born before having more children so we could take advantage of moments like this.
Rainbow: That's what I call planned parenthood.
Regardless, it makes you wonder if they will hesitate before putting them in charge again. Maybe Diane putting a hole in the wall is actually a blessing in disguise for Zoey and Junior and they'll get out of babysitting in the future. 
That does call into question Dre's parenting techniques though. He threatens his kids with grounding if they refuse to wear a t-shirt to a baseball game, but no punishment is mentioned for any of the kids after putting a hole in the wall and then lying about it? Unless being forced to watch Rainbow sing karaoke counts as punishment. 
I enjoyed Ken Jenkins' guest spot as the baseball announcer. I loved him on Scrubs and Cougar Town and it was nice seeing him pop up here. The scenes at the games were probably the funniest between Dre's vision of his "African American Express race card" and his comments on the announcer. 
He said Jack was born to steal bases, not TVs

Dre
Who knew talking about art could be so dirty? I wonder what other menial topics those two can spice up. 
What did you guys think? Did you feel bad for Dre at all? He was trying so hard to understand the rules but just wasn't getting it. Poor guy had no idea what to do during karaoke. For future reference, if Rainbow asks if you want to hear another one, just say yes (and maybe buy some ear plugs). 
We're getting a Christmas episode next week and I believe that's it for 2014. Don't forget you can watch black-ish online and catch up on any episodes you've missed. 
Stacy Glanzman was a staff writer for TV Fanatic. She retired in March, 2019.