black-ish Season 1 Episode 11 Review: Law of Attraction

Stacy Glanzman at . Updated at .
Okay, we all agree that Ruby is completely insane right? Not to mention a pyromaniac...remind me not to get on her bad side!
Pops finally returns in black-ish Season 1 Episode 11 and now we know why he hightails it to Bermuda whenever Ruby comes to visit. Their relationship couldn't be more toxic.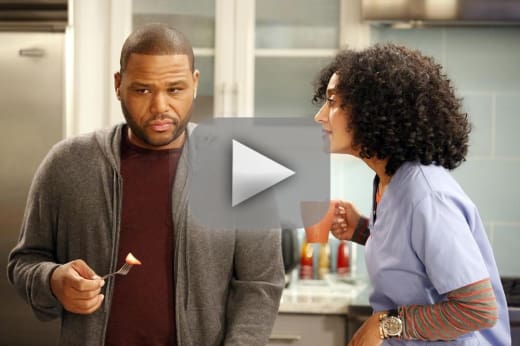 Their hot and cold attraction to each other can be turned on a dime and it's no wonder Dre worries about the effect it will have on Jack and Diane. It's bad enough he had to go through his parents' divorce without the risk that his own children will be devastated when their relationship fails again. Pops may want to stop investing in boats if he's going to continue making the same mistakes over and over again in regards to Ruby. 
Dre's "manliness" comes into question when he fails to stand up to a guy who cuts Rainbow in line at the valet. Honestly though, Dre's reaction seemed pretty in character for what we've seen of him so far this season.
I do believe him when he said that if a member of his family was in real danger that he'd defend them, but I wouldn't have expected him to overreact to the valet situation. If Pops hadn't been there and gotten involved, I don't think it would have been an issue. 
But Pops was there and because of that Dre felt embarrassed and emasculated and his coworkers' opinions weren't making things any better for him. It all led us to the funniest moment of the night when Dre tries to prove his bravery by taking Rainbow to an unsafe neighborhood.
His plan couldn't have backfired any worse when he's running scared from a little girl's dog who just wants to give him kisses. Though, to be fair, most people would be scared if they were being chased by a dog. 
When I first read the plot description about Junior and Zoey being cast as Romeo and Juliet, I was instantly concerned. I hoped it would turn out better than I expected, but in reality it was pretty groan inducing. I love Junior and I think he's hilarious, but no school would ever cast siblings as Romeo and Juliet.
Yes, I know Junior was some far down the line understudy, but still, the storyline was ridiculous. Also, wouldn't Zoey have a real understudy? Personally I'd cancel the play before allowing Junior to do his one man show. 
I can't say this was my favorite episode of black-ish, but I didn't hate it either. What did you guys think? Are you happy Pops is back? Hit the comments with your thoughts.
If you missed anything you can watch black-ish online and get caught up. 
Stacy Glanzman was a staff writer for TV Fanatic. She retired in March, 2019.