Family Guy Season 13 Episode 11 Review: Encyclopedia Griffin

Narsimha Chintaluri at . Updated at .
Family Guy Season 13 Episode 11 upped the weirdness factor a bit, just in time for Valentine's Day. Although, I don't know what's more romantic: Peter wearing a Katherine Heigl mask on his ass, or Chris serenading a doll made completely out of items he stole.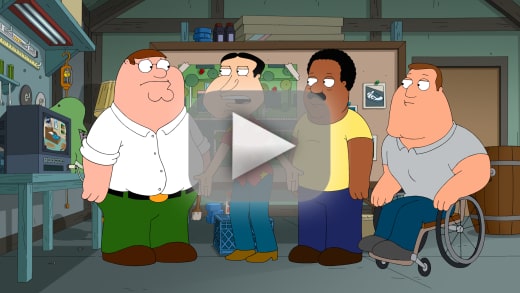 The episode's title is pretty misleading, as this half-hour is only barely about the "detective agency" Peter forms with his buddies. Their Nancy Drew clique, with Quagmire, Cleveland, and Joe (who's already an officer of the law), only lasts for a few skits where Peter attacks a gumball machine, beats up a kid selling lemonade and, finally, discovers that his son has lost his mind. 
When they found "Heather," Cleveland's remark about Chris having a walk in closet was hilarious: 
Your kid's got a walk in closet?! Two of mine gotta sleep in the car!

Cleveland
It made too much sense that Chris was so insecure in himself, just like poor Meg, that he had to resort creating a girlfriend out of inanimate objects. It didn't help that Peter only encouraged the behavior when he decided that getting past second base (touching a cabbage) would be the only way to snap Chris out of his delusion.
Lois: I thought you said you'd take care of it!
Peter: I did. He slept with it, now he'll slowly grow to hate it for the next 20 years.
Stewie and Brian were merely onlookers for a majority of the episode, but they both saw the power plays being put into motion as Lois tries to get Peter to be a more respectful husband. She wanted him to take cues from their son.
It didn't take long for Lois to realize that Peter treats her worse than that "pile of garbage," and her jealously eventually drives her mad with violent rage. This was only fitting seeing as how her finally bonding with her son came in the form of Chris ripping out the baby made out of Skittles hidden inside Heather for him and his mom to eat on their way home.
Chris: It's made of skittles! You want to eat the baby together on the way home?
Lois: Yeah, I'd like that.
The episode had a funny enough premise, but wasn't too engaging aside from that. A few of the gags, such as the secret level in Donkey Kong, or the group trying to name their detective agency, didn't go over too well and genuinely hilarious moments were few and far between. A few moments went overboard and farther than I expected, so props to Seth MacFarlane for still being able to mildly surprise me. 
Watch Family Guy online to relive any of you favorite moments, and head over to Family Guy quotes for more highlights from Chris's sordid relationship with his sex doll, "Heather."