Vikings Season 3 Episode 2 Picture Preview: Harbard Arrives

Henry A. Otero at .
Isn't it crazy that Vikings Season 3 promises to be bigger and better than ever?
This week, we pick up right where we left off with Ragnar's men basking in their glory and Princess Kwenthrith opening up to her Viking savior. In Wessex, Lagertha and Athelstan arrive at their new Viking settlement. What's King Ecbert up to?
HISTORY has released several photos from Vikings Season 3 Episode 2. Here's your first look at the aftermath of the Battle of Mercia, an important exchange between Lagertha and King Ecbert and let's not forget the wanderer, Harbard.

Go ahead and flip through these photos for a peek at Thursday's installment below:
Kevin Durand recently spoke to the press about his mysterious character and being a fan of this show. You can read that interview here!
There's always been a mystical element to this series, but did you know that Harbard is another name for Odin? The fact Aslaug, Siggy and Helga are all dreaming of his arrival is a clue there is something supernatural about the guy.
However, isn't it strange Harbard appears in Kattegat while the men are away in Wessex? Kevin did share that his character "leaves a pretty deep kind of a wound" on the other characters. Check out the interview, it's quite interesting.
Don't forget you can watch Vikings online via TV Fanatic any time, day or night. There's no excuse to fall behind.
Here is the promo for tomorrow night's installment: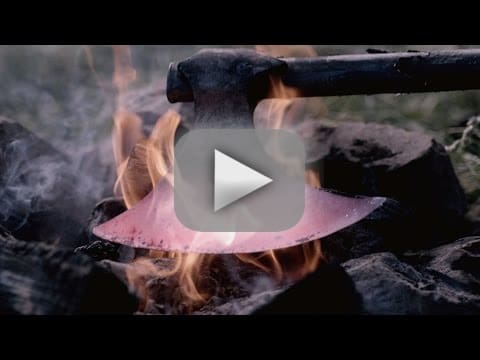 Vikings Season 3 Episode 2 is titled "The Wanderer" and airs on Thursday, February 26 at 10/9c.