Be careful what you wish for.
That could be the tagline for Battle Creek Season 1 Episode 1, as Russ, a pragmatic and old-fashioned police officer in the small Michigan town really wants to do the very best he can for his city. His fight to get the best in tools and training even leads him to write to 60 Minutes, but what he receives is hardly what he expected.
For every great officer making due who is an all around good guy, there's someone somewhere else that people consider a pain in the ass and want to get rid of. Milt is that guy in the FBI and in an effort to see him live well and prosper elsewhere, the worlds of Russ and Milt are about to collide in Battle Creek.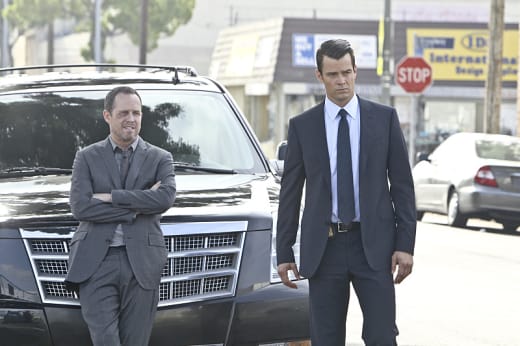 There isn't much Dean Winters would do that I wouldn't watch. Here, his talent is matched by Josh Duhamel, so it's almost difficult to play favorites. Yet, I do. Always a fan of the underdog, it's hard not to feel for Russ and his desire to best a man who seems to have everything.
Russ: I think you get lucky. Not because you trust people, but just because you're really good lookin' man.
Milt: Thank you.
Russ: But then as people get to know you, I think you get very unlucky. Which is how you ended up here in Battle Creek and not Washington or New York or even Detroit.
Milt: I go where I can help.
Russ: Oh yeah?
Milt rolls into town and makes Russ' elcairs seem distasteful, despite coming from the same shop. Russ can't help but wonder if anything bad ever happened to Milt in his entire life. He's too naive and too simple to exist and get results, yet he manages to out do Russ across the board.
What I wouldn't have given to be on the set, because the writing is really funny and the delivery of the lines seems as though it might require a few passes to get it out with a straight face. Even thinking back to this one makes me giggle. 
Russ: How do you run in those shoes?
Milt: Oh, I have an excellent cobbler.
Russ: What?!
Milt: Shoemaker. I have an excellent shoemaker.
Russ: I know what a cobbler is. This is unbelievable.
Surely, that's the point. One of the things that was enjoyable was how Russ continued to lay it all out on the line, even that fact that he bluffs and lies to get his job done. Milt, on the other hand, contritely pointed out that he never lies.
The way Josh Duhamel pulls off the Milt, you almost believe him, until you remember back to him just prior to facing the Battle Creek Police Department for the first time as he chanted to him self that he loved being there. He lies continually so that he doesn't even know what the truth is any longer, while Russ is practically an open book.
Russ doesn't hesitate to show his dissatisfaction with losing, or his shock at how good looking Milt is, or even hanging his head low as Milt gets the attention of the city for solving the big case. Everybody knows what Russ is thinking. He may want to learn from Milt, but it's pretty clear it will be Milt who learns from Russ as the story progresses.
Apart from the handsome fish out of water, odd couple appeal of the main duo, the supporting cast is wonderful. Kal Penn is back and with a humorous bent. Aubrey Dollar (who I've been waiting to catch a break from her stunning days on Guiding Light) is simply lovely as the young woman who wears her heart on her sleeve.
Sunday night seems an odd place to air Battle Creek, right after two female dominated dramas. I hope people don't turn the channel prematurely, because there is a lot to like here if they just give it a chance.
If you missed the premiere, you can watch Battle Creek online to catch up! Be here next Sunday for Battle Creek Season 1 Episode 2, "Syruptitious," when Russ and Milt go undercover in the syrup cartels (yep, you read that right) after someone is found dead, drowned in syrup!
Carissa Pavlica is the managing editor and a staff writer and critic for TV Fanatic. She's a member of the Critic's Choice Association, enjoys mentoring writers, conversing with cats, and passionately discussing the nuances of television and film with anyone who will listen. Follow her on Twitter and email her here at TV Fanatic.