Switched at Birth Season 4 Episode 10 Review: There Is My Heart

Samantha McAllister at . Updated at .
That was a rather eventful spring finale!
Switched at Birth Season 4 Episode 10, started with the beginning of the end of Bay and Emmett's relationship and signaled the beginning of Regina moving on with Eric.
It was an hour filled with tears and one shocking development; though it's safe to say most people guessed what young Will was going to tell Regina. 
Let's not waste anymore time and talk about tonight's spring finale.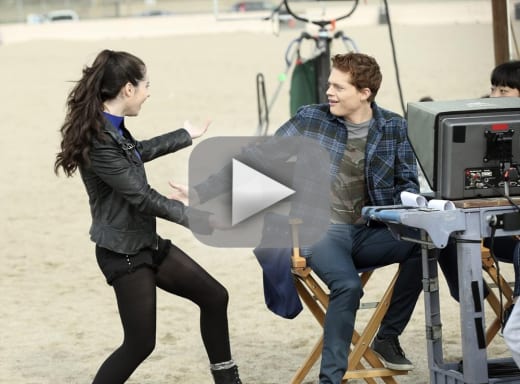 Bay surprising Emmett at his shoot was equally sweet and cringe worthy. I'm not sure it was because Skye was there to make the reunion between the two even more awkward, but something was off. It's obvious Emmett was still hurting and hadn't gotten over what happened between Tank and Bay.
While it's completely understandable that he was angry, he should have been more open with Bay about his feelings.
Of course, Bay would ignore how weird Emmett was acting and give him a special gift. Bay really needs to brush up on her knowledge of reading people and realize Emmett was trying to keep her away from the shoot for a reason. It didn't come as a huge surprise she would find the first draft of his film tucked away in his drawer.
Bay had ever right to be offended by Emmett putting what happened between Bay and Tank into his film. This is Bay's story to tell and while it did cause repercussions in her relationship with Emmett, he should have told her what he was doing – she was going to find out eventually. 
How many times are they going to break up Bay and Emmett? It was heartbreaking to watch her realize her relationship with Emmett was truly over. Emmett trying to reason with her by saying they could possibly get back together after he's done with school was completely insulting. Bay can't sit around for a maybe; though it would have been nice to see them happy for at least a month.
I can't be the only one who wasn't surprised about Daphne's grade, right? It's nothing against Daphne, but there hasn't been a focus on Daphne's studies for a while now and we only had a few instances of her struggling with some of her school work. There just wasn't enough substance provided for the audience to feel for her. 
But, Daphne isn't going to let her grades get her down. When she was signing for Natalie in the hospital and getting upset, I couldn't help but cheer her on. It's irresponsible for a hospital not to have an interpreter on hand for deaf patients. Natalie could have died had she been given those pain meds – thankfully Daphne was there for her. 
Eric talking about selling the coffee shop was incredible confusing – it hasn't even been opened long. It's hard to believe someone would want to buy a coffee shop when said shop hasn't even proven themselves. Eric couldn't seriously have been surprised by Regina's reluctance to sell. 
John and Regina's friendship has really turned into something special. Regina being able to talk freely with him and get John's perspective on things is exactly what she needed. 
John: Sounds like you're in love.
Regina: Yeah, I actually told him that for the first time today. And he didn't say it back.
John: Yikes. Well, look, those are big words for a guy, you know.
Regina: But it's not a good sign, right?
John: I hate to say it, but no, probably not.
Even though Regina is right about not being the best time to sell, she had no right to push Eric to say he loved her back. Regina was extremely childish in her behavior. Eric was clearly hiding something from Regina, but these two recently met and declaring love and talking about feelings isn't something you force on someone, especially Eric.
Toby being angry at Kathryn was completely understandable, but Kathryn was right in talking with Lily. Lily has feelings for another man and it wouldn't have been fair to continue to date Toby while she's thinking of someone else. Kathryn had nothing to do with Lily's feelings – she just helped push things along to the point where Toby and Lily could have an opened communication about their relationship.
Thankfully Toby was there for his mom and they performed a beautiful duet. It would have been so easy for Toby to screw Kathryn over, but of course Toby is a stand-up guy and would never do something so juvenile. It the moment when Kathryn got the news about the producer passing on the musical all the more heartbreaking; though it's clear they aren't going to give up without a fight.
In the end, Daphne found a companion in Mingo and he finally showed his true colors – he's not a jerk. Hearing Mingo had talked about Daphne to his mom was adorable. Mingo is exactly what Daphne needs right now – someone to support her and push her to do her best even when she doesn't think she can do it.
Regina, not surprisingly, wanted to buy Eric out of the business, but Eric decided to finally come out about how he really feels about Regina and he doesn't want to sell the shop. Of course Regina can't have it easy in the love department especially when Will admits his mother is still alive.
Unfortunately tonight's finale was a little lackluster. There were definitely some interesting developments, but they weren't entirely surprising. Eric's wife being alive wasn't a surprise and Bay and Emmett breaking up has turned into a constant plot device. The only thing which was interesting was Kathryn's musical and Daphne's decision to continue her studies. 
What did you think of tonight's spring finale? Were you surprised by anything? What do you hope to see in the second half of the season?
Don't forget you can catch up on the entire season of Switched at Birth. Go watch Switched at Birth online now via TV Fanatic. 
Samantha McAllister was a staff writer for TV Fanatic. She retired in November 2018.