The Mindy Project Season 3 Episode 18 Review: Fertility Bites

Mary Kate Venedam at . Updated at .
That may have been the fastest turn around of a business ever.
Mindy went from construction hat to open for business in just a few short minutes in The Mindy Project Season 3 Episode 18. Only problem? Finding that first patient who needed her help. Mindy found a way, just not the most ethical one.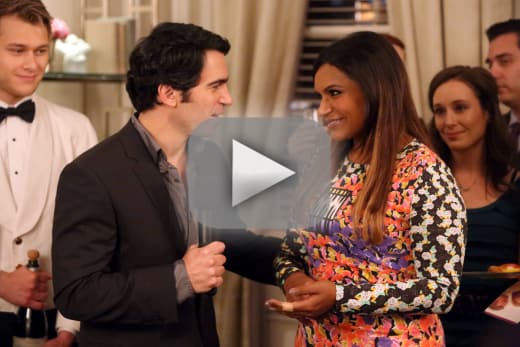 When it came to promoting her clinic, Mindy tried everything she could to get business. She even went to one of reality TV's most notorious mothers, Kris Jenner. The cameo was a blink and you miss it moment, but funny enough to include, especially considering Mindy's obvious history with one Ms. Jenner.
Your womb is a national treasure. If you could just tweet about my clinic.

Mindy
The next step was going to her co-workers, but due to her lack of experience in the field, it didn't work nearly as well as she hoped, even with her baby daddy's (Danny) attempt at helping. That's when the lie began. 
Now to start, I'll just point out how crazy nice Mindy's clinic is. If you would have told me it was a doctor's office, I would not believe you, but I would certainly stop by even just to sit on those comfy couches.
With Mindy's trusty sidekick, Morgan, by her side, she was able to get a meeting with his cousin Lou, played by returning guest star, Rob McElhenney, who just so happened to be unsuccessfully trying to have a baby with his girlfriend.
I was happily surprised by McElhenney's presence in the episode. His past appearances, including The Mindy Project Season 3 Episode 1, have lacked little content for the potential that could be Morgan's cousin. This time around his character had more substance, even if it was just making Danny feel better about being infertile. I didn't feel like his character was wasted. I mean, he's Morgan's cousin; there's a lot of great moments that could be happening. 
Of course, I will have to pay this in installments, but if it's good enough for the Puerto Rican guy at the couch store, it's good enough for you.

Lou
Mindy's lie of infertility, of course, spread fast during the launch party of the clinic and was made worst when Danny gave his toast. But, that also led to some hilarious writing as Danny's words could have two completely different meanings, especially when most of the room considers him to be infertile. What made the moment better was Mindy's knowing shame at what her lie has caused to Danny's speech. Funny moment, indeed.
Elsewhere, the Shulman crew had some much needed screen time, considering past episodes have been focused on Danny, Mindy and baby. The story combined funny moments for Morgan, Tamra, and, mostly, Beverly, while also getting to know the new doctor at Shulman, Dr. Bergdahl.
Bergdahl is obviously an outsider, but I found that more entertaining because it's funnier to see how they react to the crazies that are the Shulman and Associates employees. Beverly was the best, continuing her odd moments with the best lines. 
Dr. Bergdahl: I do want to apologize to you, Tanya, and you, Merlin, and especially you, Madison.
Beverly: Well it's about time you learned our names.
Even with Mindy's lie, it ended well for Danny and Mindy. They're moving in together. Now is when the fun really begins for the couple and I think it will be an interesting ride.
What did you think of the newest episode? Were you happy the Shulman characters had the chance to be included more? Are you excited to see where Mindy's clinic goes?
Now that the season is winding down, are you looking forward to The Mindy Project Season 3 Episode 19? If you want to catch up before then, make sure you watch The Mindy Project online via TV Fanatic.
Mary Kate Venedam is a staff writer for TV Fanatic. Follow her on Twitter and on Google+.