The Mindy Project Season 3 Episode 19 Review: Confessions of a Catho-holic

Mary Kate Venedam at . Updated at .
If only Stephen Colbert could be our priest.
While his character was not your typical priest, he definitely made for a fun and interesting story on The Mindy Project Season 3 Episode 19.
When it comes to lying to impress, Mindy has that pretty set in their relationship. But, when Danny felt the need to impress Colbert's character, Father Michael, he took a page out of Mindy's book...by lying through his teeth.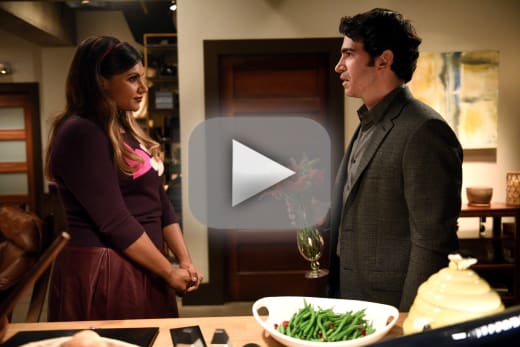 But where to begin with the ever so amusing story of Father Michael?
How about beginning with sharing part of his sex, drugs, and rock-n-roll phase with a congregation of people? Priceless. Then hearing him talk about how he has become a religious and strict priest, even Danny was unable to tell him the truth about Mindy, the pregnancy, and basically anything about their relationship.
For anyone who has ever attended Catholic school or mass, like myself, you have to appreciate the many jokes, nods and asides about mass and all things Catholic. From Latin to spaghetti dinners, Stephen Colbert's character nailed it.
It is always funny to see Danny go into religious mode. He's so self conscious about how he presents his relationship to Father Michael and still believes his confession about Mindy killed his former priest. Of course, Danny thought pretending Mindy was Catholic was the best way. 
Not sure how Father Michael believed any of it with an opening line like this: 
Mindy: Hi Friar. I'm Mindy. I so enjoyed speech.
Fr. Michael: Sermon.
Mindy: It was the best part of the show.
Fr. Michael: Mass.
Mindy tried her best to go with the Catholic thing, even if she wasn't convincing at first. However, once Mindy told Danny their little boy would be raised Catholic she decided to jump on board. That's right folks...Danny and Mindy are having a baby boy!
I found it interesting how it was only casually mentioned. Morgan had the most excited reaction. It was cute how the sonogram was all over the office and even more adorable, it convinced Danny to come clean with the truth to Father Michael. Now if only we have the opportunity to see Danny and Mindy raise their little boy (The Mindy Project Season 4, please!!).
While Mindy and Danny had fun interactions with Father Michael, Jeremy prepared a one-man show starring a little Jewish mouse. Oops, sorry, starring himself. The show was called An American Tail, so of course some confusion.
With Morgan as his coach, Jeremy prepared a play about his life in America. His acting skills may have started out rusty, but by show time, it was a show I wish we could've seen fully; mostly because it began with Jeremy dressed as a Victor/Victoria-type character as his father and baby-self. 
Jeremy: Come on, stop, Danny has never even been slightly embarrassed of you.
Mindy: Really? OK, that's a huge relief.
Jeremy: See, I can act, Morgan!
It was the first time in a while we had the chance to see Jeremy with an amusing story, rather than a sarcastic comment here or there. It was a side, or two, that has been rarely seen lately.
This was meant to be my love letter to America, but it ended up like every love letter I've ever written with the authorities being called.

Jeremy
This was one of the funnier recent outings. Starting with the title, "Confessions of a Catho-holic." Come on, how perfect is that title? The writing was great and the show was funny from start to finish. True, I may be biased because I understood and related to many of the jokes. I loved so much about both Mindy's attempt to be Catholic and Jeremy's attempt to put on a show.
Did you like Stephen Colbert as Danny's priest? Were you surprised by the sex of the baby?
With just two episodes before the season ends, is there anything you hope for in The Mindy Project Season 3 Episode 20? If you want to see anything you've missed, make sure you watch The Mindy Project online via TV Fanatic to catch up.
Mary Kate Venedam is a staff writer for TV Fanatic. Follow her on Twitter and on Google+.