The Mindy Project Season 3 Episode 21 Review: Best Man

Mary Kate Venedam at . Updated at .
Another season has come and gone and with a cliffhanger, the only question is: Can we get The Mindy Project Season 4???
This time last year, we were hoping Danny would come to his senses and get back together with Mindy. A lot has happened since they reunited at the top of the Empire State Building, yet Mindy felt something off about Danny on The Mindy Project Season 3 Episode 21. If I were her, I'd start with his new scruffy look.
The laughs were scarce, but there were certainly a lot of heart and great moments between our favorite couple and others at Shulman and Associates as another season ended.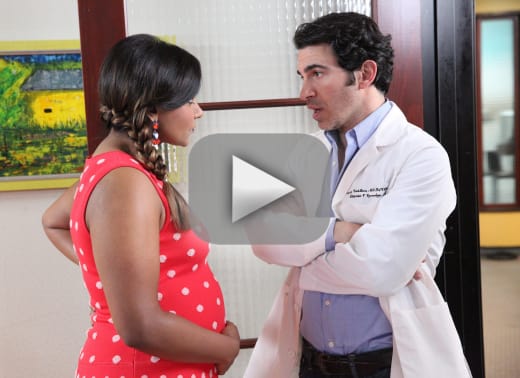 Peter returned as his impending nuptials drew closer in search of a best man. Poor Morgan always tries his hardest to be included in everyone's big events, but is always overlooked; this time by Mindy.
I loved Peter's choice because his friendship with Mindy has always been wonderful to watch even with him technically living in Texas. He has been her confidante for everything from baby to Danny. 
Ultimately, Mindy couldn't be the best man, thanks to a short cameo by Laura Dern. She played a Ukrainian doctor for Mindy who told her her health would prevent her from going to Texas. It was a quick scene, but Laura Dern's character was very upbeat and entertaining even as she gave Mindy bad news.
Morgan still didn't get the best man gig, but the open position gave Jeremy and Peter the chance to bury the hatchet about the Lauren situation. 
Besides the health issue, Mindy's biggest concern was Danny's seeming lack of commitment. He didn't even make the time to meet her parents. I mean, everyone else has wanted to meet them, why couldn't Danny?
Of course, Mindy had her own reasoning for why Danny needed to meet the Lahiris. They didn't know they were dating, let alone he fathered her child. Morgan, as always, took it to mean another ex was the father. And so, he gathered her well-known exes, Casey, Josh, along with short-term relationships, played, once again, by B.J. Novak and Max Greenfield.
I used my extensive knowledge of your sexual history and the plot of Mamma Mia and several thousand dollars of my savings to wrangle the four of your ex-boyfriends that I find the sexiest.

Morgan
Whenever there are awkward reunions, it always means laughs and this was no different. Morgan's persistence on finding the 'real father' along with a baby shower full of confused guests, including Annette and friend, Dot, was hilarious to watch, even if it was short lived. 
It was odd to see Danny have such a change of heart about marriage. His logic was sound, but it also broke my heart to see Mindy hurt when he finally told her. Seeing Mindy break down in Danny's bedroom as he told her his reasoning was so heartbreaking, I wanted to go through the screen to hug her myself. 
I want you to love me in the way that I can show on Instagram.

Mindy
Once Mindy left, Danny had a heart-to-heart with mom, Annette, which also was a sock to the gut. To have that quiet, sentimental moment between mother and son was so sweet and unusual for the show, but it felt so right to see them have the conversation about why Danny won't get married. After a season of getting to know Annette, this was more proof on why Rhea Perlman has been perfect as Danny's mom. 
Thankfully, Annette's talk got through to Danny. Instead of going to Texas for Peter's wedding, Danny made the move to, finally, meet Mindy's parents all the way in India. He even got rid of the new scruff for the meeting. 
Only problem? We never got to see her parents. Hopefully, with a season four (nudge, nudge), we'll have the chance to see the meeting between Danny and the Lahiris, along with a number of other big events in Danny and Mindy's life. 
Overall, this year's season ender had a different tone compared to The Mindy Project Season 2 Episode 22, but in a good way. It gave more reasons to root for the couple.
What did you think of the season finale? Were you surprised by Danny's commitment issues? Are you happy by Danny's gesture in India?
If you have missed any episodes from this season, make sure you watch The Mindy Project online via TV Fanatic for all of this season's episodes.
Mary Kate Venedam is a staff writer for TV Fanatic. Follow her on Twitter and on Google+.