Battle Creek Season 1 Episode 8 Review: Old Wounds

Carissa Pavlica at . Updated at .
After receiving the closure he needed, perhaps Danny can finally move forward with his life.
The pain has to be terrible to want to do what Danny did in Battle Creek Season 1 Episode 8; relive the murder of your parents in such tremendous detail. 
Yet it's also easy to understand why you might find yourself stuck in a pattern of bad habits and regret that you tie back to such a traumatic day in your life. After 17 years of expecting not dealing with it to make a difference, it was time to face it head on, anyway.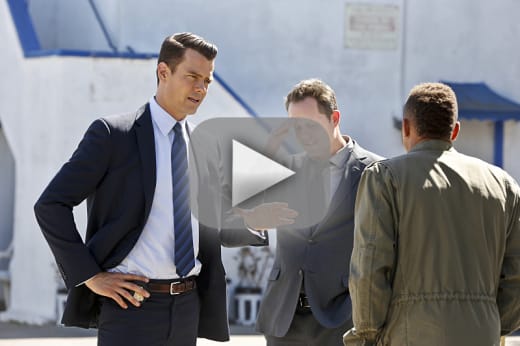 It was pretty surprising that, with as deeply into drug addiction Danny became, Kim never told her son she was an alcoholic. Does anybody else think that was a little hard to believe? Isn't that a regular 12-step type of thing to do, coach along others going through similar situations?
It was merely by fate and breaking violating his parole that Danny wound up waiting for his arraignment for his violation hearing (I've never seen them herded in like that), that Danny even came into contact with Clarence, the guy who was in prison for killing his parents.
What are the odds Clarence was talking about a 17 year old case at that moment, out loud, to himself in a holding cell? Talk about divine intervention. It was enough to make Danny wonder if his parents may have been different than he always thought; not drug-addled losers. You can't blame him for wondering.
There is almost always at least one line in Battle Creek that makes me laugh out loud, and this week it was this beauty (apologies to any of you men sporting thin mustaches):
Milt: Pete? Who's Pete?
Clarence: Prelude Pete. He drove a Prelude. Wavy hair. One of those stupid mustaches, like the thin kind that make you look you a slow learner.
The way he said that about thin mustaches making people look like they're slow learners not only made me laugh out loud, but I had to jump online and tell several others, as well as my sister and then watch it a couple more times. That was funny stuff. And, he's right! I'm laughing just thinking about it.
Not much else was funny about "Old Wounds," unfortunately. Pritchett is an asshole. From botching the case 17 years ago to his continued degradation of Russ, he needs to be fired. Giving Danny to Kim was also a colossal mistake. Sure, it turned out well, but talk about a breach of policy. I know somewhere wrapped up in his character he's supposed to be wryly amusing, but it doesn't work. I liked it better when his character was killed last year on Extant. 
Honestly, the "Russ is a crappy detective" bit is getting old. He's a great detective and the irony is the people who think he isn't have personalities even more annoying than Russ. If they weren't creeps or were, perhaps, diamonds in the rough similar to Russ, it might be a better shtick. Instead they're borderline mean and come down on Russ, making them look even more rotten.
What we haven't seen lately are many disagreements between Milt and Russ. I suppose the positive about having everyone else (Pritchett, Meredith) ragging on Russ is that Milt and Russ get on better overall.
I was also a bit lost on Holly Go Darkly. She beat the crap out of someone with a baseball bat horror-movie style back in the day, but that's all we're going to learn about it? Nobody is even going to ask her about the circumstances? I suppose it will come up again later, but the side stories they delve into with the supporting cast are always a little too poorly developed.
Aubrey Dollar is an amazing actress. She's written as keenly intelligent one week and confoundedly naive the next. Maybe we're all like that in real life and I just don't recognize it. I'd like to see the characters written with a little more clarity.
In the end, Danny learned his parents weren't anything special, after all. His birth father was a petty thug and his mom a drug-addled prostitute. Even his adoptive mom is an alcoholic. He's either going to have to rise above it all or succumb to his own demons. There's no fairytale ending. It's real life.
What did you think of the hour? What worked and what didn't? Am I the only one who thought the mustache line was hilarious??
Remember, you can watch Battle Creek online any time via TV Fanatic. Don't let this episode stop you. Overall, it's a really funny dramedy and definitely worth a look!
Carissa Pavlica is the managing editor and a staff writer and critic for TV Fanatic. She's a member of the Critic's Choice Association, enjoys mentoring writers, conversing with cats, and passionately discussing the nuances of television and film with anyone who will listen. Follow her on Twitter and email her here at TV Fanatic.