Secrets and Lies Season 1 Episode 7 Review: The Cop
Paul Dailly at . Updated at .
Never get on the wrong side of Detective Cornell.
We should know by now that Detective Cornell means business and Secrets and Lies Season 1 Episode 7 solidified that. Ben went to extremes to try and get rid of her, but did he go too far? Obviously he doesn't think so, but when you go after a detective, it only seems natural that the force would also turn on you.
Cornell is a bully, but she takes these measures to get results. It appears that she doesn't like to be proved wrong and that would explain why she has ruined lives before. Would she have any compunction with letting an innocent man go down for a crime he didn't commit, just to save face? I'm beginning to wonder.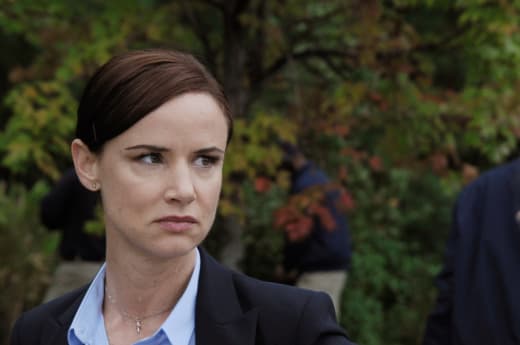 Arthur played Ben for the last time. He has been a very shady so far and it looks like Cornell has made him public enemy number one. I don't blame her at all, but he had a lot of information; some that Ben could use to his advantage.
Ben has been an enjoyable character throughout Secrets and Lies Season 1, but there is just something about him that screams guilty. The whole drama with the flashlight being hidden under the Christmas tree should have been resolved before the transportation of the presents.
Leaving it to the last day was just a reckless move and the fact he lied to Christy about what he was doing in the woods was just ludicrous. He went to the toilet, yet he was just about to go into the house? Yeah, that makes a lot of sense.
Christy: Where were you?
Ben: I had to take a leak.
The foundation under their marriage has been crumbling for quite some time, but the two of them have finally had enough of each other. It's surprising they lasted so long after he was revealed as a cheat. Christy should have been long gone when she first heard that.
It seems plausible that she would just be sticking around for the children, because as evidenced, Abby blamed her completely for it. Wasn't Ben the one who cheated? Umm, yes.
Answer the question. What are you hiding?

Christy
We finally got a meeting between Jess and Christy. It didn't live up to any of my expectations. Perhaps that's because I wanted an all out showdown between the two. There's still time.
Speaking of Jess, Ben went to her house the night that Tom died. This isn't entirely shocking considering the voicemail he attempted to leave her. It could allude to the fact that Jess, or even Natalie, could have killed Tom and Ben helped in some way.
So many questions, yet so few answers.
"The Cop" was another solid episode of this ABC freshman drama. The storyline is moving along at a brisk enough pace and knowing we are getting all of the answers in a mere three weeks is keeping the excitement going.
Other tidbits from the episode:
Did anyone else feel a little short changed by the reveal of the leak? Ben royally dropped the woman in the deep end and Cornell was not happy (Is she ever happy?!).
Dave just lets himself in everywhere, right? He's always loitering about the Crawford residence eating their food. What's his deal?
The neighbors saw Christy and the kids leaving the house and Abby publicly blamed her mother. That was interesting. Abby seems like she cares for her father a lot more than her mother and by blaming Christy in public, it could make the neighbors believe Ben.
Remember you can watch Secrets and Lies online, right here on TV Fanatic. Get caught up now!
What did you think of the episode? Any new guesses about the killer? Is Cornell good at her job?
Note: Secrets and Lies Season 1 Episode 8 airs Sunday 19 April at 9/8C on ABC.
Paul Dailly is the Associate Editor for TV Fanatic. Follow him on Twitter.