Secrets and Lies Season 1 Episode 8 Review: The Son
Paul Dailly at . Updated at .
What is Christy hiding?
That appears to be the main question after Secrets and Lies Season 1 Episode 8. The wife of Ben Crawford is quite clearly the one who brings in the money in the Crawford family, but why does she have so much? We're just dying to find out.
There's no denying that there has been something not quite right about Christy's brother, so it would be absolutely plausible that he is into some dodgy dealings and his sister joined in on the fun for a cut of the money.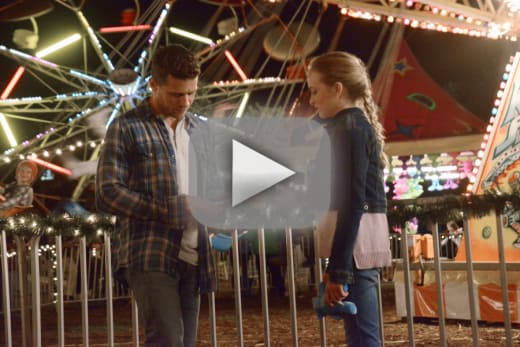 Christy could also have cheated on Tom with a big person in the community and they could have gave her a pay off to abort the baby. So many possibilities.
I'm not giving up on my kids.

Ben
Also, remember Christy was literally at work every minute of the day? She could have been earning more, or she could have been catching a long deserved break from Ben, who was testing my patience A LOT tonight.
His chat with Dave in which Dave gave us the goods about what happened the night Tom died (I'll get to that!) was just really annoying. The dialog fell completely flat. Don't even get me started on how Ben just forgave Dave. 
I completely understand that Dave helped him out by retrieving the flashlight, but then again, Ben wouldn't be in this current situation if it wasn't for his best friend trying to make him have fun.
The hour was packed full of flashbacks, thanks to Dave for filling in Ben's blanks for the night Tom was murdered. Did Dave act because of his friendship with Ben or because of guilt that he played a part in the predicament Ben is in now?
I have no idea, but there is a good chance that Dave is innocent. With two more weeks to go, the killer will probably be revealed as someone that has flew under the radar throughout Secrets and Lies Season 1.
Ben's meeting with Cornell was perhaps their most civil one to date. She looked like she genuinely believed the words coming from his mouth for a change. It was a rather stupid move of him to go blabbing to her. 
I was drunk, I was drugged and I was violent.

Ben
The fact that he took the tooth with him really made it look like he was going to be arrested there and then, but since Cornell listened and understood, he's off the hook for the time being, but that can all change in a matter of minutes on this show.
Ben obviously felt bad for the things he said to Christy in Secrets and Lies Season 1 Episode 7, but people say things in the heat of the moment. Christy should know all about that since she's been nothing but cold with her husband. One big thing we still need to find out is who told Christy about the affair.
There is no way that Christy managed to find out about them via body language. Surely they'd be a little more discrete.
Dave would be an easy option, but then we've got Natalie, who spent a lot of time in the Murphy household. She was the babysitter after all.
"The Son" was another solid installment of this ABC freshman drama. It was a gripping affair and really set the events for the final few episodes in motion and I can't wait to see how this ends for the characters.
Other tidbits from the episode:
Cornell being nice was so weird,but don't expect it to last.
Wouldn't the people in the bar have noticed how crazy Ben was acting. Surely that would have been known by now.
Does Dave ever get less annoying?
Remember you can watch Secrets and Lies online, right here on TV Fanatic. Get caught up now!
Note: Secrets and Lies Season 1 Episode 9 airs Sunday April 26 at 10/9C.
What did you think of the episode? Is Ben still very much a suspect? What's next? Hit the comments with your views.
Paul Dailly is the Associate Editor for TV Fanatic. Follow him on Twitter.