Secrets and Lies Season 1 Episode 9 Review: The Mother
Paul Dailly at . Updated at .
Is Jess Murphy the killer?
If we're to believe the events of Secrets and Lies Season 1 Episode 9, then we could be on to a winner.
I liked that the two of them seemed to be forging a relationship out of all of this. They both cheated on their respective partners six years ago, but now they are both at different points in life and single.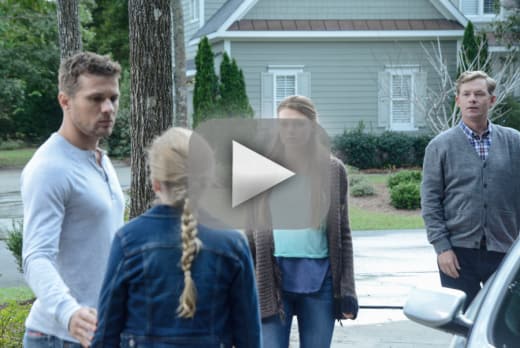 It looked like Jess wanted to play happy families with Ben and her comment about having another kid had alarm bells ringing for me. She has had two children and both have wound up dead.
No one could ever imagine the pain that woman has gone through. I think it could be a little too easy to rule her the killer at this stage. Sure, there is only one episode left, but it wouldn't be surprising if surprise evidence comes to light on Secrets and Lies Season 1 Episode 10.
Ben is desperate for the truth, so it wasn't all too surprising that he would put his feelings for Jess aside in order to get closer to it.
Abby is still sticking out like a sore thumb as a suspect, but part of me is hoping that the show doesn't decide to take that route.
Why would you wanna go anywhere that reminds you of Tom?

Abby
Christy continued to get even more deceitful this week. I understand that she has the right to be annoyed with Ben, considering what happened between him and Jess six years ago, but that was the past.
She was rude to Ben about his past and the secrets that he has been hiding from her, all while she was lying to him. Her credibility is in free fall and Cornell was even on her trail.
Was anyone else happy to see her new squeeze, Sam, get freaked out and leave when Cornell started sniffing around? No rich man wants to be seen with a cop. I don't believe for one minute that he and Christy has ever been friends. The two of them were all over each other.
Throughout Secrets and Lies Season 1, Cornell has been all about the statistics. She's chanted them to Ben on many occasions. I guess that's the procedure that detectives follow. Statistics are there for a reason, but she is doubting herself now.
The killer was female.

Cornell
No one likes to admit that they're wrong, so it was rather refreshing to see the character admit that she had an idea the killer was female.
Where does this all leave us? Well, with Abby missing and Jess smiling on as if she knows something, we won't know for sure if the female in question is Jess until we get our eyes on the finale.
I'm taking everything I know into the final hour with a pinch of salt. These shows can just pull the rug from under us in a matter of scenes, so there's that.
"The Mother" was another exciting episode of this ABC freshman drama. The show is going from strength to strength and is keeping me intrigued every week. Let's hope the finale lives up to the hype.
Other tidbits from the episode:
I haven't been a fan of Michael, but you can't deny it was nice that he let Abby have time with Ben after Christy served the divorce papers. Could he have been being nice to help get the money back?
Dave didn't have a big role in the hour, but his comment about trashing Christy, then Ben getting back with her was hilarious.
The scene with Abby screaming as if she had just killed someone when her phone broke was so fake.
Remember you can watch Secrets and Lies online, right here on TV Fanatic. Get caught up before the finale.
Note: Secrets and Lies Season 1 Episode 10 airs Sunday May 3 on ABC at 9/8c.
What did you think of the episode? Is Jess the killer? Hit the comments with your killer theory.
Paul Dailly is the Associate Editor for TV Fanatic. Follow him on Twitter.