Secrets and Lies Season 1 Episode 10 Review: The Lie
Paul Dailly at . Updated at .
What's that sound you hear? That's the sound of disappointed fans screaming about the ending to one of the most promising new shows this season.
There was a lot to like about Secrets and Lies Season 1, but Secrets and Lies Season 1 Episode 10 just ruined a lot of that. Abby being the killer was predictable. You only have to look at comments online to see that she has been one of the most likely suspects since the series began.
When the reveal came so early on in the episode, it made me think that there was a lot more to the story, but there really wasn't. She fabricated her version of events and made it sound like it was all accidental. I was shocked about how evil she actually is.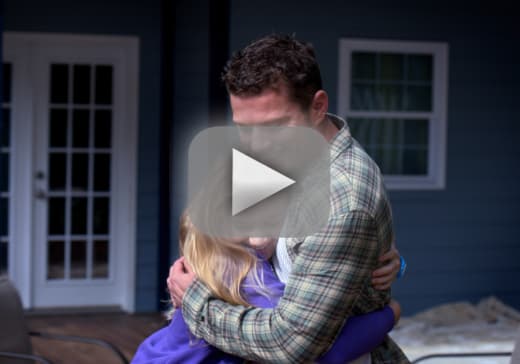 Here was me thinking the Crawfords were going to get a happy ending, but are we sure this is the end of the road for them? There has been rumblings that the show will follow an anthology format, but I'm not so sure.
The way the show was left and the subsequent epilogue that ABC decided to dump online, just screamed season finale. There really wasn't much in the way of closure.
These remakes of foreign series should have a clause in the contract that states the killer must be changed.
I'd like to give mad props to Indiana Evans who plays Natalie. It is clear she is a rising star and she has a burgeoning career ahead of her. All of her scenes this evening were fantastic. She really was the only Crawford who wasn't acting deluded.
Christy: We can't let her go to jail. She's a baby.
Natalie: Who killed one.

I get that any parent would blame themselves if their child turned out to be a killer, but Christy and Ben just plain over reacted. The fact that Abby is getting away with this and will no doubt kill again is just downright ludicrous. We can't forget that the 12-year-old tried to frame the thirty-something Jess Murphy, either.
A more satisfying conclusion would have been that Natalie followed through on her threat to call Cornell with the truth.
Speaking of Cornell, she did her best to get the truth out of Ben, but he was way too invested in keeping his killer daughter safe to take notice.
Cornell knows the truth and won't give this up. She will stop at nothing to have justice served. The woman has essentially put Ben away on a life sentence and it is eating her up inside.
I'm here to confess to the murder of Tom Murphy.


Ben
We never got to see much of Jess. She was in the first act of the episode, but that's about it. No closure for her. No closure for anyone, really.
I thought the whole point of anthology shows is that they have a clear beginning, middle and end. Clearly we've been the victim of some false advertising. Why should we bother to watch the next case if we don't get the ending we deserve after sticking with the show?
"The Lie" was the worst episode of the show yet. Sure, it had good moments, but the lack of resolution and the predictable developments just put me off.
What did you think? Did it live up to your expectations, or are you in the same boat as me? Hit the comments below.
Remember you can watch Secrets and Lies online, right here on TV Fanatic. Get caught up now.
Paul Dailly is the Associate Editor for TV Fanatic. Follow him on Twitter.