Wayward Pines Season 1 Episode 3 Review: Our Town, Our Law

Stacy Glanzman at . Updated at .
Okay, so Beverly is really dead. 
Juliette Lewis is credited for being in all ten episodes, as is Terrence Howard, so I hoped that meant we would still see them in flashbacks or something. It's still possible that could happen, but we'll have to wait and see!
Killing off two main characters within the first three episodes is pretty daring. How many more will we lose by the end?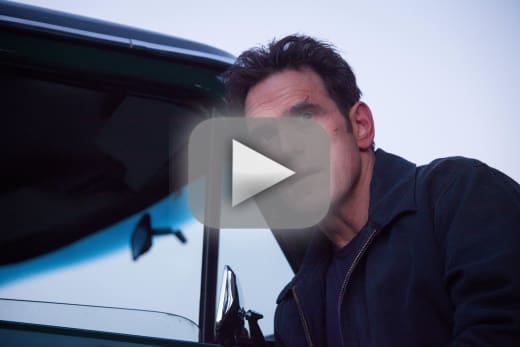 Wayward Pines Season 1 Episode 3 picks up right where Wayward Pines Season 1 Episode 2 left off with Beverly dead. That's rough for our protagonist to lose his only ally in this town so soon. It doesn't take long before he is attempting to recruit a new one in Kate, but she's not interested in becoming the town's next spectator sport. 
The phone rings while Ethan is trying to appeal to the woman he once knew, but she doesn't answer it. How does she know it's not for her? Does the "always answer the ringing phone" rule only apply when it's for you? Obviously those surveillance cameras tell the caller when you're home, so I guess you don't really have to worry too much about someone calling when you're in the shower. 
Things have gotten a whole lot more complicated now that Theresa and Ben are stuck in the town, too. I didn't actually expect them to make it there this fast, but I love that the story is moving so quickly. With only ten episodes, there isn't a lot of time to drag story lines out. 
Ethan spots a food delivery truck with Wyoming license plates, which answers questions regarding how food and supplies are brought into the town. Stowing away in the truck didn't get him very far, but it does lead to the first of two fights between Ethan and Sheriff Pope. 
They seemed to have abandoned the idea that Ethan is hallucinating or brain hemorrhaging in this one. I guess we're past the "maybe it's all in his head" possibility, not that anyone actually thought that. 
I'm thinking Ethan choosing to run off to the woods with Kate was probably not the best decision. Shouldn't he have taken Theresa out there and explained everything to her first? Of course Ben was going to sneak out and follow him. That might be the only predictable thing that's happened so far. 
Also, if I were Theresa, I would have stuck around to confront him before just taking off. It was pretty clear there was something amiss with this town, especially with how incredibly creepy Pope was acting. I think my curiosity and anger would have been enough for me to wait and demand an explanation. 
Pope taking his anger out on Theresa and Ben was unfair. They just got there and didn't even know the rules yet! He was pretty patient with Ethan in the beginning, but that patience has run out when he tries to stop Theresa and Ben from leaving. 
That leads to fight number two between Ethan and Pope, and this time Ethan wins, but does he really? Pope tells him that the truth is worse than anything he can imagine right before Ethan shoots him and steals his keys. 
Ethan opens the gate surrounding the town and some creature comes and snatches up Pope's body. What was that thing? Pope kept reiterating that following the rules would keep them safe, now we have an idea what that wall is protecting them from. 
What are your theories? If you found yourself in this town, would you play by the rules like Kate or keep trying to get out, no matter the cost? Ethan has his family to protect now, it'll be interesting to see how many risks he's willing to take now that they're with him. 
Don't forget, you can watch Wayward Pines online any time! 
Stacy Glanzman was a staff writer for TV Fanatic. She retired in March, 2019.