Aquarius Season 1 Episode 4 Review: Home Is Where You're Happy

Elizabeth Harlow at . Updated at .
Well, that was a trip. 
From AWOL soldiers to cruising in the park, and racist graffiti to deadly heroin rings, Aquarius Season 1 Episode 4 covered a lot of ground. 
Last week's murder wrapped up with a major twist. Hodiak's instincts (and fledgling forensic science skills) were correct, and Vickery was not the murderer.
Instead, his alibi – Gladner's supplier, Guapo – ordered a hit which was carried out by the delivery man. All because Hodiak roughed him up, and Gladner was ready to turn.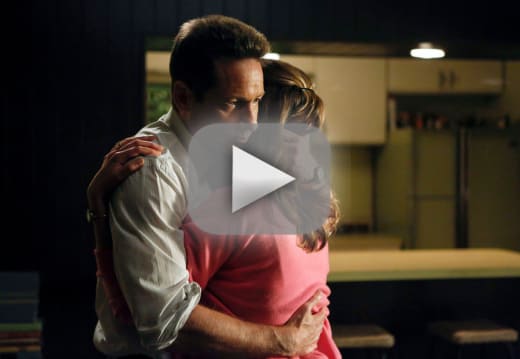 Along the way, Hodiak spent time at Gladner's other business, a strip club burlesque theater, interviewing Mrs Gladner and her employees. On his last visit, Hodiak informed her he didn't care about drugs, but he'd be back if anyone close to her bit the dust. As he left, we saw Shafe at the stage.
Clearly we'll be returning to the Peach Pussycat, which is excellent, if for no other reason than the chance to see the psychedelically body painted dancer again.
The Gladner investigation was interesting because we saw two partners working the same case, but in very different ways, which seems out of pace for a procedural. While it highlights the differences between Hodiak and Shafe, we also see their influences on one another. 
Shafe: Okay, but that would be illegal.
Hodiak: *gasp* Don't brag when it works.
I really liked the interlude at Shafe's house between the two of them. While their work relationship is primary, and they definitely have some conflicts there, they seem to genuinely like each other. 
The graffiti on the garage was especially offensive to our modern sensibilities, but Hodiak was also outraged. Of course, being David Duchovny Hodiak, he dealt with it through snark and an offer to do bodily harm to the perpetrator. 
Hodiak: What about Baldilocks next door?
Shafe: Howard? I thought you liked him?
Hodiak: I do think old cranks are funny, but if he wrote something nasty on your garage door, I got an axe handle in my trunk.
Sadly, two of the best supporting characters (Bunchy and Tully, obviously) didn't make appearances, but we did see a lot of development from Ken Karn. He's spiraling out of control as he grapples with his sexuality, and it's tragic to watch. He's so caught up in his perceived brokenness that he is ignoring the fact that his daughter is in the grasp of a psychotic cult leader.
I want to be sympathetic as he confronts his issues (that cruising scene was just sad), but he makes it really difficult.  Even before Manson seduced and manipulated him, his concern over his image was paramount to his personality. 
No, I said I'd bundle $250,000 because you said you'd donate 50 grand. Now, were you lying to me, or Ronnie Regan, and Nancy will eat your eggs for brunch.

Karn
We did get to see Walt again, albeit for just a moment. I'm finally starting to feel more invested in this story, but man, has it been a slow build. After the way Hodiak reacted to seminarian Dave, I'm curious about how he'll deal with his son. So far, he's approached it almost as a problem to be fixed. Much as he did with Emma's gun-grabbing acid trip.
While Grace tried to calm Emma down and reassure her, Hodiak took full control when the gun went off. Giving someone a black eye and throwing her over your shoulder is certainly one way to end a confrontation.
I'm not sure how that will work out in the long run, though. Emma started out being more outrageously in denial than ever, clashing with Rue Fisher. Talk about displaced anger. You'd think being left with a strange man would make a girl reevaluate her devotion to Manson, wouldn't you?
It's interesting that Grace is so concerned she may have insulted Emma in their last argument by calling her a whore, since Manson has turned her into an actual one. 
This episode was actually pretty light on Manson. What we saw was true to form though; manipulative and possessive. He wasn't upset with Rue because he was concerned with Emma and Sadie's well being, but because it was an insult to him, and he had lost his property.
As of this episode, he's actually feeling superfluous. I love Gethin Anthony's portrayal, it's spot on creepy, but there's just so much else going on. Manson is enough for a show all his own. I'll just have to keep faith that all these stories will come back together.
Watch Aquarius online and let me know what you think in the comments! 
Elizabeth Harlow was a staff writer for TV Fanatic. She left the organization in October 2018.